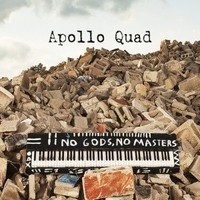 Apollo Quad is a hip hop band from Bloomington, Indiana. Approaching three years of existence, they have played over 100 gigs at places ranging from NY to Cali. No Gods, No Masters is the name of their second full-length album.
"Ramble On" provides a curious mix of mellow piano with forceful freestyle rap.
The intro to "Moonlight" does not sound much like a hip hop track, but sure enough 15 seconds in, the rap vocals launch at a torrid pace. The lyrics are intelligent and even quite poetic at times.
On "What's a Genre?" the bass and background guitars, with their smoothness and funk, have an air of the Chili Peppers. It eventually dawns on me that the title is intended to be rhetorical, that the band doesn't care a rat ass about how they get classified, that it's all about whether or not they can play with style: "What is a genre? / I really don't know / But Apollo Quad got the flow."
"Phantom" Live from Russian Recordings
http://youtu.be/AQMDNIVGuGQ
"White Roses" starts out with more of a traditional rock sound than any track so far. But it takes just about 20 seconds for the band to reveal their primarily hip hop nature. The keyboard melody is somewhat haunted, which I suppose suits the lyrics:
"I come to a clearing / I can see what I been fearing / A large wooden box / And I hear the voices stop."
Am a big fan of the beginning to "Breathe." The distorted, funky guitar riff is as contagious as Ebola. Whoever plays that six-string is now officially on my watch list…About 3:20 there's this brilliantly subtle background guitar piece, which provides such a great framework for the lyricist, who is also in peak form here.
"Plebeian" appears to have a bit of a political bent. You will not be alone if you are delightedly surprise by the jazz solo that erupts at 3:35.
The synthesizer on "Wordsmith" is downright nasty. It could serve as a soundtrack to the show American Gangster. The mean synth seems to infect the lyricist, who soon sounds less like a freestyle poet, and more like a warrior.
The instrumental component to "7 Years" is both engaging and ominous. Beginning at 3:20, a precious and elegant guitar solo takes the forefront. It gradually develops into a glorious cascade of notes.
A wicked guitar solo can also be heard on the latter part of "Return of the Writers," a rather strange track that takes on the air of a whacked out jam session. I can picture Apollo Quad being a pretty wild & spontaneous live act.
As for the album title, No Gods, No Masters…Is that an assertion of the band's absolute autonomy? Do they see themselves as having no gods or masters, and being in total control of their own destiny?
Draw your own conclusions at: https://itunes.apple.com/us/album/no-gods-no-masters/id571558635
Or simply visit: http://www.apolloquad.com/
Ray Cavanaugh – owleyesgatsby@yahoo.com