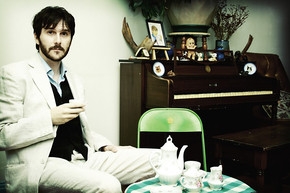 The Heavy Blinkers have announced that their highly anticipated new album, Health, will be released on Tuesday, July 30. One of Spin Magazine's 100 Greatest Bands You've (Probably) Never Heard, the group has been working on the orchestral opus for over seven years. It features apperances from Sondre Lerche, The High Llamas' Sean O'Hagan, and Jenn Grant.  
https://soundcloud.com/matt-21-1/the-heavy-blinkers-perfect
Rolling Stone Magazine once claimed, "The Heavy Blinkers go beyond simple accomplishment, and into the realm of masterwork thanks to the production and pure genius arrangements." Health holds true to these words. Each song delivers lush new arrangements that revel in all the benefits of studio indulgence. Culled from 30 completed songs, the depth of the project is massive, but the focus is unparalleled. It uses works such as Frank Sinatra'sWatertown and Van Dyke Parks' (who once called the band "the real deal") Song Cycle as touchstones, but still remains wholly unique.
http://www.pigeonrow.com/theheavyblinkershealth/
Photo By: Mat Dunlap