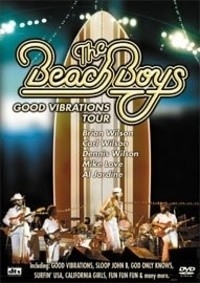 The Beach Boys were primarily responsible for the surf sound of the 60's and have continued touring and carrying on the legacy.   This release originally shot for television in 1976 (under the direction of Saturday Night's Lorne Michaels), includes live versions of songs performed at Anaheim Stadium after the release of their album 15 Big Ones.   The release also features interviews and vignettes of the boys, brothers Brian, Carl, and Dennis along with original band members Al Jardine, and Mike Love.  
The release has bits of other concert footage woven in, along with previously made video and interview clips.   Some of the vignettes feature revelations of the individual band members.   The songs with the exception of a few are their major hits, the ones you can sing along with. One thing I noted, in addition to having a normal few additional keyboardists (to aid the ailing Brian), there was another drummer and a percussionist way up off of the main stage to help out Dennis.  
Some interesting takes were Dennis warbling Billy Preston's You Are So Beautiful, and a studio take of the brothers doing I'm Bugged By My Ol' Man.   One of the weirdest (and they're all pretty weird) video clips was Dan Akroyd and John Belushi dressed as cops, arresting Brian in his bed, and taking him to the ocean trying to make him surf!   Second place in the weird category is the boys performing That Same Song in a church with a church organist and choir.   As Mike sang most of the leads, many will notice Carl playing a 12-string while singing lead on the hits God Only Knows and Good Vibrations.    
The songs are legendary, and the video is fun to watch.   Viewers even get to watch a clip of Paul McCartney hanging at Brian's 34th birthday bash!   Sounds like, and is, Fun, Fun, Fun!
By R.M. Engelman