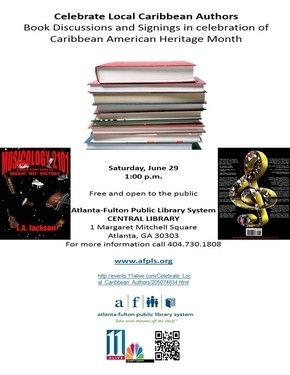 Hello again folks and welcome to our summer SKOPE edition! Join us as we support our latest Press Release: In conjunction with the print offering of music veteran L.A. Jackson's new book MUSICOLOGY 2101: A QUICK START GUIDE TO MUSIC "BIZ" HISTORY, the author will appear at the Atlanta-Fulton County Central Library, as the library hosts a Celebrate Local Caribbean Authors Day with book discussions and signings in honor of "Caribbean American Heritage Month." This free event takes place Saturday, June 29th, 1 PM at the Atlanta-Fulton County Central Library, 1 Margaret Mitchell Square, Atlanta, GA 30303.
The author, a relocated Jamaican now living in Atlanta by way of Brooklyn, watched the Rap/Hip-Hop industry unfold during the 70s and 80s. In his MUSICOLOGY SERIES, he combines the story with the evolution of Jamaican music as it worked its way into the multi-billion dollar music industry. MUSICOLOGY 2101 is the first of a 4-book series that chronicles how music traveled with mankind through history. L.A. Jackson has an extensive music business background, including a 10-year artist development and marketing career at CBS Records/Sony Music/Columbia/Epic/Def Jam Recordings in the 80s and 90s. Mike Morrison, a Vice President at MKM Multimedia Works affirms, "The author's MUSICOLOGY SERIES fuses intense research with high level experience in the music industry." He also announces "This release is accompanied with a new music compilation, MKM's Exposer 3, and features new music from developing artists like Kimosha LeToi with the Official Song of Musicology 2101, "EYES STUCK ON ME."
Other goodies include a teaser for quadruple platinum British Dance group, Anything But Monday. These lovely ladies are the only women in the world to own their own Mirosa Beer brewery! Watch out for summer's hot DJ promotion giving the top 5 remixes a shot at getting promoted with the debut U.S. single from the group, "99 BOTTLES OF BEER" — Woo Hoo, Bunda, Bunda!!!!
Currently, L.A. Jackson is a member of the Georgia Music Industry Association (www.gmia.org) and National Association of Record Industry Professionals (www.narip.com). Bookings are being scheduled for interviews on Thursday, Friday and Saturday prior to the event. Please contact mkmmmw@gmail.com or call 678-641-9547 for more information. For more information, visit www.createspace.com/4142047 or you can contact the Atlanta Fulton County Library at 404-730-1808 and www.afpls.org.
On behalf of L.A. Jackson and MKM Multimedia Works, VP Mike Morrison says, "Thanks for your support!" Until next month, let's keep it moving!
MP3 — Kimosha LeToi – "Eyes Stuck On Me" – www.reverbnation.com/kimo1atpcr
PIC — Fulton County Library event
VIDEO — Andrew Bees — "Better Must Come" – http://www.youtube.com/watch?v=BOYCfdTRV-Y
By LA jackson – mkmmmw@gmail.com