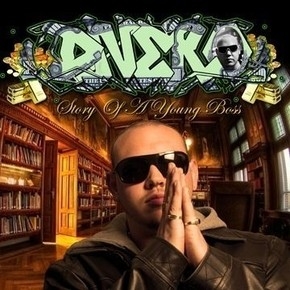 Not to be confused with Robert De Niro, Jersey's own D'Nero is a young up-and-coming rapper, audio engineer, producer & songwriter who is looking to make a huge statement.   Succeeding is in D'Nero's DNA as he single-handedly sold over 20,000 units in 17 different countries all on just a $400 budget!   This D'Nero is a real go-getter with an entrepreneurial spirit, so failure is not an option for the ambitious 21 year old.  
I'd like to refer to him as the Real Deal D'Nero and he's fresh out the box with his debut full-length record titled 'Story Of A Young Boss'.   "Young Boss" is right because D'Nero has been writing music since he was 11 and he was recording in a professional studio at just 15!   The versatile artist was nominated for "Best Male Indie Rap Artist of 2010" by the Indie Elite Awards and he also signed with Reformatory Records back in 2011.   D'Nero has opened up for some well-known acts such as: Maino, Ron Browz, Cory Gunz & TRAV (of G-Unit), Bizzy Bone (Bone Thugs-N-Harmony) and Danny Diablo.   No doubt D'Nero is on the fast track to success, so when you hear the saying "D'Nero is the name and it means money" it will all make sense then.  
'Story Of A Young Boss' features 12 blazing, hot tracks that are just off the hook!   The album is full of flavor from beginning to end with D'Nero layin' it down and killin' it on the mic.   You'll get slammin' beats mixed with a smooth ass flow and then throw in some fresh 'n' fly club hooks for fan's sake.   Much of the songs on this record are what I'd like to call the perfect bob-your-head jams.   It's goin' down for sure because of course Real Deal D'Nero is doin' it up BIG!   And I won't lie in saying that Dirty D'Nero is not afraid to throw in some buck nasty rhymes from time to time to help liven up the joint.  
The only thing I would ease off of some would be the overused auto-tune effect because D'Nero simply does not need it; he's way too good for it and that's REAL!   'Story Of A Young Boss' is just on fire where every single track bangs louder than the next.   Just as the classic Positive K had 'The Skills Dat Pay Da Bills', D'Nero comes equipped with his own verbal artillery.   I have to say that I'm very excited to see how far D'Nero can take this thing as we bear witness to "A Young Boss" in the making.   The story begins here but where will it end?
http://www.reformatoryrecords.com/dnero
4.5/5 Skopes
By Jimmy Rae (jrae2@att.net)