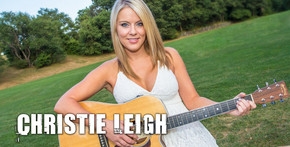 Born in a small New England town, Christie Leigh grew up in a family that encouraged her creativity from a very young age. Her father's rock and roll band rehearsed in the basement and Christie was the girl with her ear pressed to the door. It was no surprise she developed a love of classic sounds like country, rock and blues.
In 2007, Christie released an EP, "When You Need a Moment" for which the title track won numerous accolades and awards. She continued to perform hundreds of shows around New England with occasional small tours to New York and California.
"Shine"
http://youtu.be/HLgEWS-sx1I
Christie's latest release is her most accomplished effort to date. Recorded and produced by Yan Perchuk in Nashville, TN. "Deep Down Damned" features 11 original songs that are catchy, honest and inspiring. The new album is available on iTunes on January 11th, 2013.