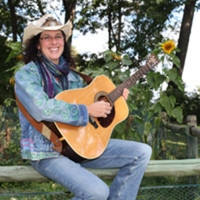 Chicago-based songwriter Jeanie B! is taking a respite from her acclaimed children's music album making to reflect and revive, on her new album, CPR. Inspired by a series of personal obstacles over the past several years, the six-track EP confronts issues of separation, loss and love renewed. Jeanie wrote: "…having recently gone through a divorce, fallen in love, been abandoned and found love again, it was time to write about love and heartache." The EP marks the group's first album since their 2001 debut album, In The World, but sticks to their formula of Pop/Country/Folk fusion musicality over Jeanie's emotive, autobiographical lyrical matter.
Title track "CPR" contains slight Pop Country leanings spiked with saxophone fills, Blues electric guitar work and lyrical message of love renewed. Vocally, Jeanie evokes a young Chrissie Hynde, while a vein of vintage Chicago groove runs just underneath with a prototypical contemporary radio Country vibe as foundation. Horn blasts and soaring electric work usher in "Ride Away To Nowhere." This upbeat rocker of a track maintains a tinge of Honky Tonk with slide guitar work and picking tandem in what is essentially a love song about motorcycle riding ("Can't just write love songs about people now can I?"). "Starting To Forget" continues the autobiographical ethos of the tracks in what shows Jeanie reminiscing about her former loves and the healing process that follows. The demure musicality coincides with the vocal vein with opening sax, slight backing percussion and an undercurrent of even slighter acoustic guitar strums and electric picks. The down tempo nature and autobiography continues with "It's You I'm Missing" with piano and electric interplay just underneath the unanswered questions ethos of the track. The chorus breaks the tempo with full band soaring over Jeanie's proclamation of loss lyrical matter. "It's All Good" is another upbeat rocking Honky Stomp track with more Blues-laden guitar notes and urgent percussion work. This one illustrates the proper arrangement of the album with appropriate peaks and valleys. Backing vocals bolster Jeanie on "Farewell" which seems to finalize the thoughts and feelings of the album with the acceptance and finality that comes along with saying goodbye. Again, arrangement is proper as this track finishes the cyclical nature of the thoughts and emotions of the albums.
Simply, this is an album devoted to catharsis. The addressing of wounds; the unanswered questions and the eventual healing are all present themes through these short six tracks. Musically, it doesn't sound like the group has missed a step since their initial outing 12-years ago. All in all, this is an album about hurt and recovery, loss and gain and the bevy of everything that comes in between.            
http://www.jango.com/music/Jeanie+B+Angel+Paint?l=0
Rating: 3/5
By: Christopher West – cwestlaz@gmail.com