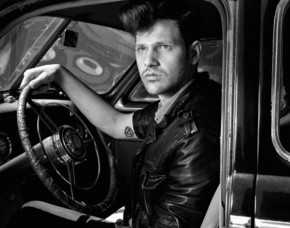 With a nod to his great influences such as The Beatles (Revolver-era), Tom Petty, The Kinks, Elliot Smith, and The Traveling Wilburys, Marco Argiro's "Love" calls to mind a psychedelic era of rock infused with harmonies reminiscent of the West Coast sounds of the 70s. The album represents love in all variations: young love, faltering love, and love's evolution over time. The title track and first single, "Love," takes a simple and classic message – "All you need is love" – and reinterprets it for a new generation.
Listen to "Love" here:
https://soundcloud.com/jillian-eipr/marco-argiro-love-love-edit
After his solo debut in 2005, Argiro began to release music under the pseudonym "Le Mood." Splitting his time between Le Mood and The Killing Floor, Argiro also started his own record label, Outright Rock Records. Autumn of 2013 will see the release of the second album under the Marco Argiro name, Love, on that very label.