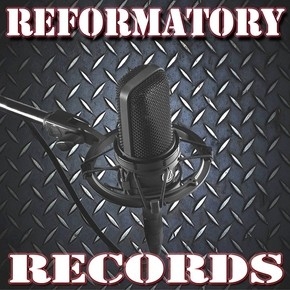 Hello to all on this rainy Wednesday in New England. It feels so good to be back at it. Last night I did what I like to call some "drunk downloading" on my Kindle Fire. For those that do not know, that is when you indulge in some cocktails and download every song you love while racking up a big bill. It's so easy to do and I never feel guilty as I love supporting Skope artists! Today we are swtiching it up a bit as I have invited Mike Repel on to speak on Reformatory Records. I have kown of Mike for some time and I am always impressed with his passion and desire to create a label that is not only profitable but takes care of its artists. Join us this week as Mike speaks on getting his start, being a musician as well as label head, what he looks for in acts to sign, and much more!
Stoli: Where are we talking from today and how are you enjoying the warmer weather in Chicago?
I'm actually in the office today, I've already done all my company errands while the weather has been nice.   Our weather is still fluctuating from pleasant to chilly and were expecting rain over the next few days, so I'm glad that I just finished up my running around. I actually just completed listening to an interview of my artist D'nero which was done by the critically acclaimed Ed Tyll on TalkRadioX.
Stoli: Please give us a brief history of your journey in music and how you came to start Reformatory Records – http://www.reformatoryrecords.com?
Back in the 1980's as was the case with most kids that grew up with the guitar influences of Randy Rhoads and Eddie Van Halen I wanted to learn the guitar and as fate would have it, a friend of mine across the alley already had one and was getting into Yngwie Malmsteen,   Joe Satriani and Steve Vai.
He taught me the basics and I kind of ran from it from there because I my tastes were waning from rock and I was getting into DC and LA punk as well as New York City Hardcore at the time.
The first live show that I attended was when I was about 12 or 13 years old. The strong sense of community I experienced in the underground music scene, along with the ability to meet my idols at such a young age really made me want to get more involved.
Back then there was no internet. We were doing networking and promotions with a telephone, snail mail, and were running hand drawn flyers off of a ditto machine to get the word out about shows. It was all voluntary and I think it was before the term "street team" was even coined, but it's that kind of personal involvement and dedication to something bigger than oneself that was exercised by everyone that really made that scene prosper. We had something that we could call our own. There was no major label involvement, the bands didn't want that and neither did the kids. It was a completely self-sufficient D.I.Y. music scene and that way of doing things is the exact reason that I have a label today. I am in sole control of how this label operates, and it is because of the vast amount of things that I learned firsthand from 25 years of being personally involved in music, combined with the understanding that   I CAN DO THIS INDEPENDENTLY, that make this label work.
By the time the concept of starting the label occurred to me, I had a vast understanding of the music industry and it was actually more of a lateral transition at that point. Prior to this I had managed all of the bands I was in, so the oversight and experience were already there. There was not much of a learning curve and so it began.
Stoli: You are a musician as well. Do you ever get back out there and play and how does that help you in running a label?
Honestly, I just bought another guitar to add to my arsenal and I have a huge desire to get out and play again, it's like the fountain of youth.   My current obligations and the fact that my time is split several ways keeps this on the backburner for now,   but if the right people get involved it will pop.
As a guitar player, dealing with song structure, tone,   live sound, and recording, one develops an ear for how things should sit in a mix and this does help with the recording aspect of things   and in the area of production.
As a live working musician, I was the person who did all the booking, promoting, merchandising, marketing and branding for the bands that I was involved in.   Assembling press kits, and doing CD layouts and t-shirt designs all fell under the scope of things that I did. I utilized every single last tool available to me that I was able to obtain either from experience or through my own personal research, this all carried over and was immediately implemented into the artist development that I was doing. There were no questions to ask. I took what I knew and I solely built up the brand of my developing artists while giving them 25 years of industry education in a very small window of time that they would of not had access to otherwise.   My attention to the details that a lot of people either overlook or just don't know about, combined with skillset that I obtained from being in my own bands are enough to keep costs down and the oversight that I provide ensures that things actually get done.  
Stoli: How does the word "Reformatory" define the label and your mission statement?
My involvement in music for the most part kept me out of trouble.   The time I spent away from it proved otherwise. I fell in with a rough crowd and got a serious street education.
The time that I feel   I wasted not pursuing musical endeavors combined with the accomplishments I saw that other people were making on the music scene made me feel that I had to make up for this lost time. This self-realization made me focus, furthered my resolve, and also made me want to help others succeed in music.
After leaving the last band that I was in, I had a lot of free time on my hands, recording equipment, and a rap artist close to me who was in and out of trouble, having cut my teeth on my own bands, I decided to take it upon myself to develop my first artist, and in doing so, build up a label.   I was willing to devote that level of dedication into seeing that he had something constructive and positive to do with his life. Hence the name "Reformatory Records"
Not long after the first few recording sessions, he ended up incarcerated, but the ball was already moving forward at that point and I was continued with my ambition of trying to bring raw talent from the street to the stage and from the underground to the international platform.
I had started something that I intended to finish. I reformed myself, and I intended to create an opportunity for artists that needed what I had to offer.
Stoli: What advantages can you offer your artists today through social media and technology?
Social media has evolved so much in the last decade that each different platform has its own intrinsic value. I utilize several of these platforms and have used them successfully for branding and promotions on an international level but I'm not at liberty to get into the specifics. I have historically helped my artists further understand social media and I set up artist accounts on multiple platforms and websites for them,   this allows us to index very well and provide increased levels of visibility. Our analytics, and more importantly, our sales, show traffic from all over the globe.
Our digital distribution is international, and a more intensive and diverse platform than most artists currently have, our music is so readily available that we are even making sales very obscure music markets.   I have also developed a digital distribution company called Repel Music Distribution that brings these services to artists and labels that are not under contract with us. I can't sign everyone, but I can level the playing field as much as possible between the Indies and the majors for the artists, bands and labels that choose to work with me.
This is not only a label that works heavily online, but it is also a small business that utilizes the advantages of the technical applications that are online. I have already expressed the valuable things I've learned about the music industry over a lifetime, but what I am also learning as a business is really mind boggling and definitely advantageous for an upstart company in the digital age.
I take my online marketing and advertising foundation back to what I learned doing guerilla promotions on the street at a young age. This may seem minimalistic to some readers, but it is the application of the concepts that you learn that make all the difference. I have obviously adapted these tactics over time, but I still look at my market a certain way when I am trying to ascertain how to hit my target consumer.
Stoli: What music genres & artist do you listen to and do the bands that you sign reflect your own taste?
My music tastes are very wide and far reaching.   I am a music history buff. Listening to new genres of music that spin off of their parent genres and dissecting what these artists are doing with what prior generations have left them is always very interesting.
We are currently host to Rap, House, Hardcore and Metal and are delving into other genres of music. The rule that a label should be indigenous to its own genre of music doesn't apply here.   Rules are meant to be broken.   Seasoned entities within the Rap and Hip-Hop field have applauded me for what I have accomplished up until this point. I was told that it takes a lot of balls for a guitar player from an underground band to step into the hip-hop game and start a label and that I was doing far more for my artists than any other independent label of my size. On the flipside of this coin, working in a highly commercialized/ mainstream market such as Hip-Hop and Rap I have also observed an taken in enough of these business models to apply what is useful to our business plan.
I have already started devising my plans for our new artists that will further diversify our catalog and I look forward to seeing how far I can push the envelope.
Stoli: How do you go about signing an artist in regards to what you are looking for and how can artists submit to be on Reformatory?
I have just recently created an A&R titles for this label, and we have a few pending contracts now that are moving forward.   I am also active on a few music scenes and I keep my eye on bands I see live, but we have a submission intake on our website which is where I personally review material from potential artists. I would like to say we are looking for a certain criteria in our new artists. Our artist development works best when the acts we sign have already made accomplishments and milestones in their own career and are successful in other aspects of their life outside of music if they are not already doing this full time. We are looking for goal oriented artists who are either touring or have the ability to tour and have a maniacal work ethic, the ability to be a team player and do your part in following a plan; which we would be laying out for your benefit in the first place.
Should any artists want to fill out our submission form they can do so here;
http://www.reformatoryrecords.com/artist-submissions
Stoli: What are certain business practices of the major labels that you do not do to your artists?
We do not attach deductions against an agreed base royalty rate. This method of nickel and diming an artist is unethical in my eyes and can drive an artist's royalty rate down several points. Yes there are recoupable costs that we incur, but once those line items are paid back, we want to see everyone treated fairly.   We have always negotiated artist's mechanicals higher than the statutory royalty rate. We are able to do this because of less overhead and a smaller infrastructure.
Stoli: I am really feeling your diverse roster from D'Nero, DJ House, Thirteen & A Half, just to name a few. What got you excited about these guys and what do you have planned for them?
Each one of the artists on my label has something unique about them that made me originally engage them. I don't feel that I would be able to give each act the proper credit they deserve within the confines of this interview.   It may better serve your readers if they visited my site and researched each artist themselves.
As far as future plans I'm going to condense this to what we are currently doing this week with D'nero and a few things that we have pending;
Outside of this interview, and the review of D'neros newly released debut album "Story Of A Young Boss"   he is currently a weekly featured artist on the home page of Reverbnation. This has also driven him up to the #1 ranking spot in his area, which wasn't a far stretch from the number #8 spot he has been holding firmly. Other features this for D'nero this week can be found on Ballerstatus.com,   and DjSmallz.com.   He has also just had a radio interview with the world renowned Ed Tyll on TalkRadioX.com and that interview should be archived and available on that site. He will be wrapping this week up with a pool party at Harrah's Casino in Atlantic City New Jersey this Sunday May 26th 2013. After that we are trying lock D'nero in for a Chicago date on June 8th and also a date on the A3C hip hop festival in Atlanta Georgia. Opportunities are actually coming to this artist now, so our planning is to also roll with the punches as we maintain our marketing for the album.
Additional releases from other artists are scheduled but we have no tentative dates at this time and we will be making some announcements regarding new artists very soon.
Stoli: You have been in the music hustle for many years. Do you also work a day job and what keeps you hungry to persevere in this tough business?
I was recently at a music conference and an investor told me that he questioned my dedication to my label when I told him that I still have a day job.
"How am I supposed to fund it?" was my answer.
I've met people with a lot of money who didn't have the first idea how to spend it.
There are so many misconceptions about success in this world and this music industry that flash and image take a front seat to sound business practices. People fail to recognize that every famous artist and every corporation did at one point in time start somewhere.
This is where you can separate the underground artists who call themselves independent artists and the ones who truly are independent.
A lot of people get into this industry with the belief that they are going to get signed by a major label but do absolutely nothing to facilitate that, they have no direction and spend no time building legitimate a foundation in sales. Some are even paying for downloads, views, like, and followers which is just completely asinine.
The truly independent artists who understand this industry, understand their fans, and spend time obtaining the building blocks they need to succeed do this for a long time and work diligently at it are the kind of artists we are looking for, at the end of the day the artists are the face of the label, and these are the artists we are seeking to expand our roster. Their motivation is what motivates me.
Possessing a solid foundation such as I had mentioned and at times a large magnitude of patience keep me moving forward.
Not many people understand how I am able to accomplish what I have been able to do, well, its because of my Independent doctrine.   The fact of the matter is that this is all I do. I have limited distractions and I maintain an obsessive work ethic. I'm sober,   I fund my operations with my own money, and I run this company with hands on experience, and I remain hungry. I am not happy whatsoever with where this company is at yet. I'm restless, and I fear the day that I will become satisfied with my accomplishments because that will mean that my drive is idling down.   It takes a lot of planning, a lot of patience and the compulsive urge to check your own work to make this function, especially for a small operation like this.  
I think the one thing that makes me push the hardest is that I know that no one else is going to do the work except for me.   Its hard for me to find people that can bring something to the table, but I have been lucky.   My senior A&R rep has 30 years' experience in music and I would love to further expand this administrative team with the right people.   I'm not in a rush, these people will reveal themselves in due time, in the meantime ill continue to carry the brunt of this workload on my shoulders.
Stoli: I feel like the US faces many problems now, but unemployment is #1. What do you think will help bring back the economy & jobs for the people?
Support your local economy, spend some money on products from the stores in your community. If you don't invest in your own community, the stores will close and it will become desolate. Spend money with other businesses, refer clients to each other. This keeps a local community thriving and develops a local micro economy. The same applies to the music community. Support each other's releases by buying each other's music, buy tickets to see a band live, buy a band t-shirt, that shirt will purchase enough gas to send an artist another 50 miles down the road towards his next gig.
Stoli: What is coming up for Mike & Reformatory Records and where you @ online?
New artists, new releases, and growing marketplace visibility. New team members. New opportunities for our artists. New opportunities for other artists via my other company Repel Music Distribution, which will be launching a new user product and website overhaul soon.
We can be found at:
http://www.reformatoryrecords.com
https://twitter.com/reformatoryrecs
http://www.repelmusicdistribution.com