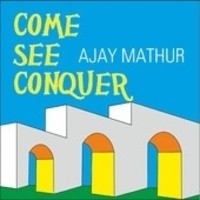 Switzerland might be a strange place to birth an "Americana" artist, but Ajay Mathur's "Come See Conquer" will undoubtedly have a few heads spinning in confusion… at first glance anyway. The good news is that Ajay's e.p. is addictive and might make us all believers afterall.
The songs are raw, combining world music, 50's and 80's pop rock and other genres into something fresh and enjoyable. When I say raw, I mean there's no studio trickery here. The vocals are up front, placing earnestness over perfection, sincerity over autotune.
"Flying To The Moon" MP3:
http://k002.kiwi6.com/hotlink/b385n9381y/flying_to_the_moon_ajaymathur.mp3
The title track "Come See Conquer" is like the beat from "Footloose" meets reggae and rockabilly and ends up sounding like a leftover gem from the 50's. Dire Straits or even George Thorogood wished they wrote this one.
Next is "Temporary" a bluesy piece of drama. It's as if time stood still or possibly it's timeless music. The choruses are memorable with near flawless background harmonies soaring into tasty fingerpicking guitar solos.
"All For You" slows things down a bit, reminds me a little of Pearl Jam. However, the acoustic guitar solo shows that Ajay has some serious chops.
The e.p. wraps things up with "Flying To The Moon" which is probably appropriate, as Ajay Mathur takes alot of musical and lyrical risks. I really got the impression that Mr. Mathur had been listening to The Eagles when he wrote this song, with a "Take It Easy" vibe all his own.
http://www.ajaymathur.com
http://www.reverbnation.com/actofchoice
By: Anon