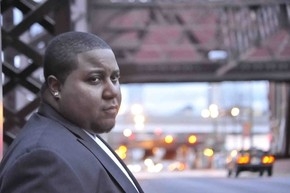 There is nothing Kris Warren won't turn his hand to when it comes to spreading the word about himself and the projects which he is involved with. Not only is Kris a bourgeoning music star, he is quite happy to turn his hand to acting so don't be surprised if you see him on the silver screen at the Austin Film Festival this year when he appears in Swill, 'a film about a cop, a Priest and a liquor store.'
Driven by his ability to create music from whatever he is feeling, this Chicago based rising star has taken every step so far with purpose. From dropping out of college, which to some might seem ludicrous, Kris Warren has learned and grown from this path and is already   'paying it forward' by encouraging teens from the Chicago area to look beyond crime and street gangs for their path.
Speaking to Skope, Kris gives us a bit of insight into his musical side but you can guarantee he will be back on the site very soon with more announcements of what he has going on in his challenging, yet extremely rewarding life.
When you look back on your life, was there a defining moment when you realized that you were destined for the music industry?
I can't give an exact date on when I realized I was destined for music, but about seven years ago I realized how good I felt when I wrote lyrics and did freestyle raps with the fellas.   Then about four years ago I decided to start investing seriously into my craft.
Kris Warren Feat. Melody – BLOW UP
http://www.youtube.com/watch?v=ZGwQ-sXPsng
I know you have a corporate background, set up your own dating site etc. and was then headhunted. What prompted you to set up your own dating site?
The website was a relationship advice and dating website.   Growing up in grade school/high school I was a very promiscuous guy.   It was fairly easy for me to get dates.   I wasn't the best looking guy in school but I had a mouthpiece.   Other guys started to notice that the smooth chubby guy was getting more girls than them so they started asking for advice.   So when I dropped out of college after the 2nd semester I decided that I might as well go back to what I know and see if I could actually make it a legitimate company.   I was only 19 at the time, a lot of people said I was stupid for dropping out.   But for me personally, it was the best decision I've ever made in my life…
The internet has played a huge role in the over-saturation of the music industry according to some folks. Do you feel that it has helped or hindered your progression as an artist?
I feel the industry is moving in the right direction.   It's the era of the indie.   I think it gives us a better chance to reach out to potential listeners and utilize our budgets the best to gain exposure.   Most indie artist don't have major label funds so therefore they can't compete with all those advertising dollars the major labels push out.   Having the internet evens the playing field a little bit.
When you create music, what is on your mind? Where do you get your inspiration from? Who are you inspirations?
When I create music I go off my mood; happy, sad, optimistic, disappointed, flattered, etc.   I don't create music unless I am feeling it.   I get my inspiration from my experiences and my environment.   For example in the song titled BOYS TO MEN off my album JMT V1 I told a story about a male growing up. I touched on events from his childhood all the way to present 2013.   One day I was just sitting back thinking about my life and everything that I experienced so I decided to make the track.   That kid you hear in the story that eventually figures it out and grows to be a man is me…   You can free download that track at www.kriswarrenproductions.com
You took yourself out on the road, so many acts nowadays struggle with shows so how did that work out for you and is it something you would do again?
I loved being on the road.   I took some of my closest friends with me.   When you have someone familiar with you in an unfamiliar setting it makes everything more comfortable.   We went through Illinois, Iowa, South Dakota, Nebraska, Kansas, and Missouri.   They embraced me in each town and I still keep in contact with people I visited from every city.   Kansas had a lot of dope indie artist and they seemed pretty supportive of each other out there.   To be honest Omaha really surprised me. I experienced one of the best nights I have ever had in my life; inside and outside of music.   I haven't been to any of the cities prior to the tour except for St Louis and that's like my second home.   I love to travel and I love to do music so touring is the best of both worlds…
How hard is it today when you see so much corruption in the industry in securing an authentic fan base and do you feel followers, likes and views etc. really do matter?
Honestly I never really sit back and think how "hard" something is.   I just think of how I am going to do it and just go for it.   I think social media platforms do help artist because it makes it easier to interact with your supporters.   It also makes it easier to network in other states and countries with people that appreciate your music.   Honestly, I'm on my way up so the amount of people that support me is still growing.
You recently pushed a track about legalizing marijuana, is this something you feel strongly about and if so why?
Yes, I strongly believe in decriminalizing marijuana and/or legalizing marijuana.   Cannabis can be used in medicine, food, fuel, clothing and many other areas that can benefit humankind.   Unlike certain FDA approved prescription drugs there have been no medical records of anyone ever overdosing on smoking weed or being the primary cause of any deaths. Cannabis smoke is non-cancerous, and some studies have even found that it also has the potential to stop cancerous tumor growth.   As for the music video I made for the track, some organizations supported the video while a few others said they did not want to be associated with the "rap" video because they claim to be an "Anti-Marijuana Prohibition Organization" and not a pro marijuana smoking group.   LOL.   It's all the same however you word it.   You support smoking weed!!!   Some of these organizations really baffle me.   I started thinking like "are we really on the same side or what?"   But hey, I guess supporting a so called "rap" video might scare away a few of there donors that keep them lined in the finest suits and per diem paid trips.   Even if it means being a fascist and not really supporting the cause.   But hey, that's just my thoughts…
What do you have lined up over the next few months when it comes to music?
I will be releasing an EP titled Just My Thoughts Vol. 1: MIDDLE CLASS HIGH LIFE.   The extended album will be available for free download via my website www.kriswarrenproductions.com.   I will also be touring in select cities starting in July.
Any collaborations in the works?
I'm working with a few new producers.   When I work with other artist I like to have tracks done before I reach out to them.   I like to be able to sit back and think to myself about who might fit well on the track with me…   I think some artist also do it the same way because a few artist have recently reached out to me with their vocals already done; leaving an open space for my verse.
What do you think it takes to be an artist today?
Just be yourself, create the music that makes you feel good, and everything else will fall into place…
@kriswarrenmusic
By: Lara Croft — Crate Raider