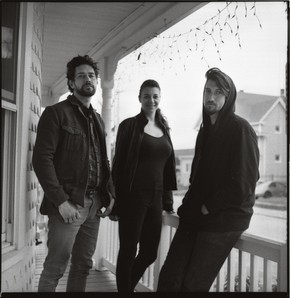 The spirit of rock 'n roll is exhumed, drenched in heavy blues riffs, and smeared with earthy grit by Brooklyn's Graveyard Lovers, a band   "unmatched for both quality and energy." (CMJ.com) Comprised of Zach Reynolds (guitar,vocals), Tricia Purvis (Drums), and Orion Wainer   (Bass), the three intertwine their deepest, darkest melodies and passionate forces on their 2013 release, Dreamers.
https://soundcloud.com/jillian-eipr/graveyard-lovers-dreamers-02-1/
Ranging from dynamic "Manifesto," slinky "Blessed Are the Ties that Bind," ethereal "The Island," to punky "Nameless," Graveyard Lovers explore a spectrum of influences on Dreamers.   Essences of Jack White, The Black Keys and Band of Skulls can be heard as the trio foster and grow their roots into Louisiana-blues-infused grunge-rock for a modern age.