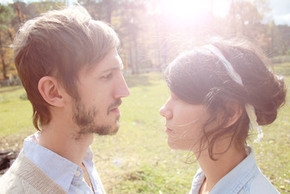 Lowland Hum, the multisensory artistic collaboration of husband and wife duo Daniel Levi Goans and Lauren Plank Goans will self-release Native Air, their first full-length album on August 6.
The self produced Native Air was recorded at Daniel's parents' home and mixed by Rick Parker, who's recent work with Lord Huron they admired. The album was funded by a successful Kickstarter campaign and was mastered by Brent Lambert at Kitchen Mastering in Carrboro, NC.
https://soundcloud.com/lowlandhum/war-is-over
Although folk music is the primary medium of Lowland Hum, the band incorporates a curated multisensory experience to fully engage audiences during their live show. Inspired by Lauren's independent design and publishing business, Florida House Press, the band seeks to seamlessly integrate visual, musical and even olfactory methods during performances. The duo create illuminated art installations to frame their performances, distribute handmade lyric booklets and bread from local bakeries to cultivate a communal experiences.