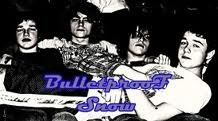 Bulletproof Snow is a 4 piece Rock band from of all places Detroit, Michigan. This might just be the perfect locale to explore the sad but true, reckless realm of musical expression. Their latest EP release "Punished for my Innocence" is an action packed collection of melodic rock that reveals all the a-typical conventions of straight forward college rock, creating a solid yet catchy album. The first title track is an impressive kickoff statement to say the least. All in all a catchy EP, which in itself presents a stunning 4 track line-up. As the album slowly runs the gamut it offers much in the way of melodic music and captivating vocals that make the listener feel like they're in a live setting. Musical parallels for me include; Mindless Self Indulgence, Sum 41, Electric Six and The White Stripes. One cannot help but admire artists with strong songwriting skills and truthful conviction all the while demonstrating a strong a level of youthful energy. One senses a growing ambition as this EP runs its course. McLaughlin's appealing vocals and slamming guitar picking hit the mark and with intellectually stimulating lyrics providing a very real and powerful source of inspiration overall. Bulletproof Snow is one of those bands not afraid to put his toe into the rocked out side of the pool shall we say. The musicianship pulls out all the stops, and the overall production value tows the line. Notable standouts for me include: What Comes Next and the title track. If you want a rocked out sound via a hard rocking staple there's something on this EP for you. Obviously many will fail to identify with it though, due to its really youthful sound and perhaps this is what fans will like about it. Having said that this CD is not for anyone and is really made for listeners between the ages of (15-21). Some pieces present more modern sounding overtones but despite the flavor there are still traditional Rock n' Roll textures from earlier eras. This is really what makes "Punished for my Innocence" so enticing to me personally.
In this aspect "Punished for my Innocence" EP is in itself an impressive musical set from Bulletproof Snow, and also   grants you rare access to peer into the tormented soul of a quintessential artist from a Detroit perspective.
I TUNES: https://itunes.apple.com/us/album/punished-for-my-innocence-ep/id594702675
Official URL: http://www.bulletproofsnow.com/
Review by Blaine Calhoun edited by J.J. McCall
Bulletproof Snow are: Trey McLaughlin — Lead Vocals/Guitar, Jake Yacobelli- Guitar/Vocals, Matt Coon — Bass, and Connor Cheney — Drums.
Final Rating: 7/10
Review comments: johnmccall964@gmail.com