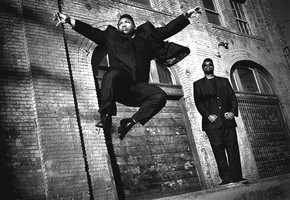 Hello people of the world, we are all still & here so that is a good thing. These days you must count your blessings! Anyways before we get started I want to speak on Vevo. Vevo is Youtube's music video channnel. I never really got into it but now that Vevo is on Roku I am hooked. They have a massive catalog of music videos streaming to my TV. Can you say heavenly? Now lets get to a group that really needs know intro, so please welcome Year Of The Dragon. Just the fact that "Rodcore" Palmer and Dirty Walt are on Skoped Out, has got me buggin' so lets get to it. Join me as the guys talk about evil in the world, how they got started, social media, and much more!
Stoli: Where are we talking from today and how did the Boston Marathon bombing make you feel?    
Rod "Rodcore" Palmer: It made me feel like some people are fucking scumbags, but you know, others jumped right in to help despite all the carnage and to see how the city responded with courage was great.   Hate seeing all these dumb conspiracy theories that are clearly fake b.s. popping up though.
DW: Well I'm at home in L.A., the Bombing is sad but what do we expect we live in the USA. Land of the Assholes.
Stoli: How do you guys digest such evil in this world and does terrorism make you nervous in crowds?  
Rod "Rodcore" Palmer: As we are born, so shall we die.   I don't fear death.   I fear not living completely or being of service to others.
DW: We have been dining on Evil all our lives. I live in L.A. from the Hood I do my own security, Ever Scared.
Stoli: How did you guys come together and how did Year Of The Dragon come to be your name?  
Rod "Rodcore" Palmer: Walt and I were both born on a Chinese year of the dragon in the same month, a week apart.   We figured it was fate!
DW: After I stepped away from The Bone. We worked together on the next Sound Barrier record (unreleased) and had a break in recording it, and we got together on some lets see how we sound together and it sounds Great, New, Refreshing, Cool we keep it moving, The Name is Easy The year we are born is the some year,some month, just days apart we are Strong with it!! The Power of God said!! YEAR of the DRAGON!!!! And there you have it.
Stoli: You guys have been making music for over 10+ years now. What is your key to longevity and getting up everyday to make music for your fans?  
Rod "Rodcore" Palmer: That they enjoy it and want to see more of it, and that we're making a little money off of it now!
DW: Well you got to love what you do, you got to have the balls to tell your girlfriend to go to hell when she trys to stop you from doing what you enjoy in life. And that goes to all your Haters, Family, Lovers, and even Yourself!!
Stoli: I like how you are down with http://www.theibct.com/. Please speak on what that label stands for and how you hooked up with them?
Rod "Rodcore" Palmer: The IBCT stands for the INTERNATIONAL BROTHERHOOD OF CONSEQUENTIAL TRUTH!   We co-founded the IBCT and release our first full length player BLUNT FORCE KARMA through them and also Walt's second solo record STILL SMOKIN'.     We don't work with them anymore but it's still all love and family.
DW: That is a Label started by Rod, Chris, and myself when we started YOTD, the partnership did not work out, Two records on that label YOTD LP, and DW solo LP.
Stoli: Your EP 'Five Fingers Of Def' is amazing. How have you been pushing that EP since its release and how where can people grab a copy?
Rod "Rodcore" Palmer: About a year now, but due to Walt's schedule with Fishbone we haven't been pushing it as hard as we'd like. We're just about to shoot a video for the fifth song on it, SIMPLE MAN, and do some more road dates behind it and another new release we have for the real fans at shows called NOT A RIOT:   THE MIXTAPE!
DW: On the internet, at the shows, any hustler technic you can think of. Because we believe in this.
Stoli: Your social media game is proper. How important is that to have for a band and how much time per week is spent online pushing YOTD?  
Rod "Rodcore" Palmer: VERY.   You can't be in the game without having your social media game be hard and strong like a porn star's pecker.   Plus you want to interact with your fans, we OLD SCHOOL punk rock like that.   We don't see our fans even as "fans", only as friends we haven't met yet (although some of our friends are stranger than others, admittedly!!).
DW: It's very important in todays scene, anytime you turn your PC on Promotion starts all day, everyday.
Stoli: Being that you guys are on the west coast in LA you have played all the major venues. What shows do you have coming up and what venue do you want to play but have not yet?  
Rod "Rodcore" Palmer: Any that are on the road in a city near you!   We've done all we want to do and accomplished a lot here–in the past 7 months we've played at Staples Center opening for the Chili Peppers, up in S.F. with Fishbone, at places like the Observatory, Henry Fonda and the El Rey doing support for the Bad Brains and Living Colour in addition to all the local reg'la clubs…time to get it crackin' on the road!   And we're very close to announcing road dates!   As far as our next show, it will opening at the Roxy for Metalachi and Philm (ft. Dave Lombardo of Slayer) on Friday May 3rd!
DW: Well we have some touring coming to your town soon. And the Dragon will be on Fire!! Big, small, it don't matter the Venue is the World!!
Stoli: I love your song "Jailbreak" – http://youtu.be/KyuL8MAc0ew – Who wrote that song and how does the video represent that?  
Rod "Rodcore" Palmer: Music all by our former guitar player (and still bredren) JMR, words by Walter with a very minor contribution by myself.
DW: Thats YOTD!! The video like the song is about being free at any cost, we just put it prison, like our minds.
Stoli: Where do you turn to stream/buy new music and any other bands you can suggest to check out?  
Rod "Rodcore" Palmer: Spotify is usually first choice, Pandora as well.   As far as bands, Seattle-lites Uncle Pooch, also on the IBCT label, a band out of New York called the Skins, I'm a big fan of Authority Zero, another band called the Memorials if you wanna go old school of course Black Flag, DK's, SS Decontrol, The Meatmen…
DW: Thats a hard one, theres a lot out there, Right now I want to see B.A.D. and anything new, fresh, and on fire.
Stoli: What is coming up for YOTD and where can we Follow & Like you?  
Rod "Rodcore" Palmer: You can start with the website:   www.yotd.la, on Facebook, www.facebook.com/yotd12, on twitter @Yearofthedragon
DW: More Music, More Touring, More Hustling, More Kung Fu kicks to the DOME!! Go in Peace.