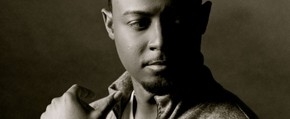 Normally when a rapper comes out that has something real to say, he gets squeezed out by all the mainstream noise. Now you do a little dance and a hook, BAM! YouTube sensation [Soulja Boi]. But Absoloot's new album "Banksters" isn't just a heady piece of social commentary; it has some tight hooks and production with just the right amount of 'something for everyone'. So we're going to find out what this album's about, he we go…
Skope: There are recurring themes of greed and corruption throughout, yet it doesn't sound overly preachy. So, is Banksters a concept album?
Absoloot: Well before I start working on any project I come up with a theme first. That way all the music flows together. I feel this project is as real as it gets. I wanted the music not only to speak for me, but for the listener also.
Skope: I like the idea of bankers being linked to modern day gangsters. Don't you find it insane that the government bailed them out and the managers decided to give themselves huge raises? It seems our culture celebrates failure, when a CEO steps down for doing a crap job, they get huge payouts for leaving the companies worse than when they step in. Does it make any sense to you?
Absoloot: Of course not that's why I decided to speak on it. By pointing this out I'm hoping I can get people to understand we have the power to make a change within the system. There's so much corruption within the system it's going to take much more than just casting a vote. We're going to have to work together whether it's protesting, volunteering or boycotting something has to be done. I feel music is a great way to start getting people involved.
Skope: Are you working with a producer or do you have a home studio?
Absoloot: I work with a few producers, but for this project I worked solely with Jee Juh. I felt their production matched what I was looking for.
Skope: I just watched your video "Watch Your Words" and people were blown away by it. What was the idea behind the video and do you actually work on your videos as well or do you have a production team?
Absoloot: The concept behind "Watch Your Words" is more for aspiring artist to be aware of what they say. When people begin paying attention to your music it's important that they understand who you are as an artist.
Skope: Are you politically active?
Absoloot: I've always been active as far as politics. I'm hoping to get the younger generation more involved in politics. It's going to take more than just voting to change what's going on in Washington.
Skope: What are you hoping people will take away from "Banksters" as something to think about?
Absoloot: Honestly I'm just hoping I can open peoples eyes to the real issues affecting us all. This album is just part of the bigger picture. We'll never get ahead as a people if we allow a few to control the masses.
Watch: http://www.youtube.com/user/absolootube
Skope: Do you have any plans to tour with this record?
Absoloot: Nothing set in stone just yet, but we have a few things in the works. I'm just going to continue to do my part and allow things to fall into place as they should.
Skope: Has college radio picked up on this yet? What is the lead-off single from "Banksters"?
Absoloot: Yes we've been receiving a lot of press so far with our lead single "Banksters". People can relate to the message within the music so we have to go a different route as far as promotion goes.
Skope: What do think of other contemporaries like Hopsin or Tech N9ne? Do you have any 'beefs' we should know about? How much of that do you think is really just cheap publicity stunts for attention?
Absoloot: I'm definitely a fan of both Hopsin and Tech N9ne. As far as beef that's just something I personally can't see myself getting involved in. I would never pay for studio time and music to create a song about someone I don't care for. (Laughs) I really don't have time to worry about what anyone else is doing and plus I like to keep my music positive. I know a lot of people feel that's sometimes the quickest way to get exposure within the hip-hop community, but I think everyone should know by now it's harmed more careers than it's helped.
Skope: Is there any hope left for the future of hip-hop or have we heard it all by now?
Absoloot: As long as I'm here I would like to think so (Laughs). Hip-hop goes through eras and I feel we're in a transitional period right now moving away from the bling era. I like to think the music can only get better from this point (Laughs).
Skope: What's next for Absoloot?
Absoloot: Well I'm working with Bill and Dorla Perry on the soundtrack for their movie "From Hell to Heaven through the Eye's Of a P.I.". I will be the executive producer of the soundtrack so I'm very excited about that. I also have a group project with "Rebels and a Cause" I'm working on with Emaculant so definitely stay tuned for that.
Be sure to grab "Banksters", you won't be disappointed if you're into real hip-hop!
Douglas Garnett – http://digdugdisaster.com – douglas.garnett@gmail.com
http://www.reverbnation.com/absoloot
https://twitter.com/absoloot