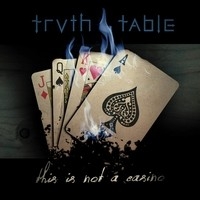 Hailing from NYC, Truth Table's debut album demonstrates that you can be creative and still write a catchy song. TT's winning combination of talent [featuring drummer Dennis Leeflang of Bumblefoot, Long Island Idol winner Mike Fries and multi-talented songwriter/producer/guitarist Brian Johnston] shines throughout this little altrock gem, carrying on tradition while forging ahead with a definitive sound of their own.
The album kicks off with Animation, musically reminding me of early Gin Blossoms, but with more vocal dynamics.
"Ricochet"
http://youtu.be/nUXuHHeZ2uY
Vindictive showcases the band's edgier side and crazy good musicianship, bringing to mind Incubus at times, followed up by Ricochet which sounds like a continuation of that moment.
Slowing things down a bit is the acoustic track A Hundred Year Frost, this is where the band really shines as songwriters, with background violins and layered harmonies, Truth Table knows how to write a ballad or two!
Buy:
http://www.amazon.com/This-Is-Not-a-Casino/dp/B00AN6ISA0
The Most Dangerous Game gallops along, changing up tempos and showing a tastefully shreddin' guitar solo to boot.
Truck closes the album, a funkified track that reminds us that this is a fun album to listen to, and you could do much worse than This Is Not A Casino. It's complexity will keep the listener coming back for more but it's catchy hooks and soaring vocals will grab you immediately.
http://www.reverbnation.com/truthtable
By: Anon