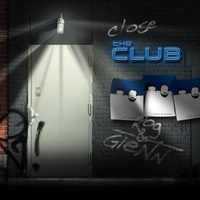 Roger Brandon and Glenn Hubbard (Rog and Glenn) just released their latest CD entitled Close the Club in 2013. This dynamic duo hails from North Carolina. This latest work is the result of a weekend improvisation session which we later edited and layered.   It came from the idea of "wouldn't it be funny if guys like us tried to make dance music", but came out as a quirky 70s meets 80s kind of vibe. WOW OK! I always listen to the opening track extremely carefully. It's the opening track the band or artists has selected to hit your ears first and foremost. The opening track "That's What you Get" sets the stage rather well for this CD. It was a great intro piece that stuck in my head and had me eager for what was ahead. All in all the whole CD is brilliantly delivered with a powerful Progressive Alternative Rock, Dance Rock textures with songs that at times can bite you and hit you hard with serious melodic staying power. Music will remind you of   Justice, They Might be Giant, XTC, and even Graham Coxon. Rog and Glenn described this record as "Robert Fripp does dance music" well played. Rog and Glenn represent a fresh new voice in modern rock and present a strong message to the establishment that at times can be aggressive, upbeat and highly hilarious. As a result "Close the Club" presents a very loud, comical and at times even in your face sound.   Each piece is real, not so overly- corporate sounding and very defiant in nature.
My only criticism is this session approach is a bit unorthodox. Sure Derek and the Dominos used to pump out albums in 1 day but that was over 30 years ago. The overall   production quality is not as refined or exotic as some of the more top tired musical productions I've heard this year. I would also say some of the songs, lyrics and messages are a bit overly eccentric for a mass audience. Many will struggle to identify with Rog and Glenn. Some of this plays into marketability.
Rog and Glenn will also remind me of a variety of bands from the 80's in the hey day of the Rock movement, but I can even hear more trippy bands like Oingo Boingo, and The Pet Shop Boys on steroids.   If there was one word I would use to describe Rog and Glenn it would be radical.   This CD is a real jolt to the senses and will make you feel more troubled about the world we live in — but hey don't kill the messenger.  
URL: www.closetheclub.com (album streaming is available via this site)
Overall Rating: 3/5
Other Rog and Glenn links:
Album Promo Video:   http://www.youtube.com/watch?v=2FcQZgIQoWs
Mix Session documentary:   http://www.youtube.com/watch?v=x5a5-V2mlec
Facebook:   www.facebook.com/rogglenn
Written by Mindy McCall edited by Drew Blackwell
Review comments: indiemindymccall@gmail.com