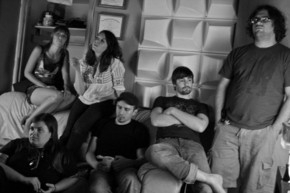 I do not have to tell anyone reading this that today is truly a sad day here in Boston, MA & globally. To have our city and it's people attacked so cowardly it is hard to digest. The Back Bay holds a special place for Skope as that is where we started not only Skope, but our lives. At first I was just going to stay in bed today but I decided to let the music of Elevator Art help ease the horror and sadness I feel. This group of 6 from New Jersey have got an impressive 7 track album called 'Martian Diver.' This album is unique and very appealing to the listener, so I would suggest giving them a listen. Join me today as I chat with Elevator Art on everything from creating 'Martian Diver', sexual energy in the group, the Illuminati, and much more!
Stoli: Where are we talking from today and how is your day starting out so far?
We're chatting from an undisclosed location beneath the icy tundra of Antarctica, and If Daimon's bionic extremity surgery goes well, I think we'll all feel a little better. Other than that, we're fantastic!
Stoli: Now the spring is here do you feel more creative with the nicer weather?
It's better for us as a band in the spring and summer, as we spend more time together discussing possibilities and taking breaks outside. Because we spend our creative time indoors, we're more productive when we can take breaks.
Stoli: Please offer brief insight into how you all came together and was the 3 guys & 3 gals intentional?
It started with two guys and a gal. There was something gentle about the music; acoustic songs with a female influence and hearty vocals describing a time of innocence and carefree living.   This was during a time when we had recently graduated and looked to music as a constant during changing times. With the addition of a drummer, the four of us wrote music so frequently that each of our sets varied per show and we were constantly recording in various settings, from a friend's bathroom to dormitories to professional studios in dark basements. It was with the addition of the two additional women that the band completely shifted to a serious, professional band with choreography and assigned roles. It was an incredible advantage to work with many individuals so the songs could have more instrumentation, more input, more developing, and more interaction with the audience. It was never intentional to keep adding members, but naturally happened the way as the band was shifting goals and growing.
"Bear 141":
http://www.youtube.com/watch?v=-wMxrosz_QA
Stoli: What is the music scene like in New Jersey where you are or do you travel into NYC?
New Jersey has a plethora of bands, and it is this fruitful culture that has allowed us to be the band that we are together. Bands network with each other, there are venues for us all over the state, and we can go to each corner of the state to spread our music. Our fan base is in New Jersey and we're fortunate to have fans that would be willing to commute to see us in New York should we have a show there.
Stoli: I am really loving the album 'Martian Diver'. Where did you record and write and how long did the process take?
Thank you very much! The writing process took about a solid year. During the recording of "Tent City", Daimon and Mike had been writing tunes and were introducing them periodically in preparation for another album. Shortly after the release of "Tent City", we all went back into Joe's basement and started piecing together Martian Diver. Liz had a friend who owed her a favor, so he offered to record a one shot deal for us. We took up the offer, and were so pleased with the result, we had him record the entire album. That man's name is Charlie Busacca, and he resides at Machine Shop recording studio in Bellville, NJ.
Stoli: I love the song "Spaceship Blues." What is that song about and who wrote those lyrics?
Mike wrote the lyrics, melody, and overall complete concept, which then we all took and composed collectively.
The song, in a literal sense, is a story about an interstellar love connection where the male character is secretly infatuated with a woman whom he has only spoken to a handful of times.
Envisioned to take place in deep space upon some sort of docking ship or a "mini-space city", when the male character learns his love interest was placed on a mission to further explore into space, he falls into a deep depression. However, despite his seemingly bad luck, the commanding officer of the mission confuses him with a crew member and gets to serendipitously board the outgoing spacecraft, ready for departure to uncharted territory.
In the latter half of the song where the character is expressing his "spaceship blues", it's almost a sympathetic plea for recognition and a proposition to his love interest to settle down with him on some distant world. However, the song is open for the listeners more imaginative interpretation.
Stoli: Why did you decide to call your group Elevator Art?
The name was originally a title to a song Mike was writing, having nothing to do with an actual elevator. Eventually, there was some artistic embellishment going on where it simply meant, "Music intended to raise a person's awareness or emotional state" or something along the lines of writing music with a positive message or outcome, despite some of the music having melancholic overtones.
When we started writing and recording music together, anything perceived to be positive was welcomed by us at that point in our lives. "Elevator Art" was the best name we could've used to represent what we were trying to express because the song Mike was writing at the time had to do with questioning our nature as human beings and why our innocence and creativity seem to get lost as we get older.
It became a philosophy so-to-speak, to the point of becoming a lifestyle or a way of being, which ran parallel to the music we were writing. It became a statement of all the beliefs and things we were for and against in life. It was almost as if it was our own way of rebelling against the darker and more destructive trends people find no fault in succumbing to and trying to promote positive outcomes, solutions or answers.
As more members were added to the group, there were a lot more creative elements and many things a person could perceive to be positive. We were all best friends (and still are) and we were happy to create a sort of "positive manifesto" with music, art, and life which constantly proved "Elevator Art" was the right name for us.
So, in short, there you have it. It was positive, spiritually symbolic, and provocative as a name to say the least…we became: Elevator Art.
Stoli: Being that you are all very attractive, is their any sexual energy amongst bandmates or is that frowned upon?
We are partial to monthly orgies that consist of a Masquerade pre-party and Absinthe induced pleasantries. I think the question is would you like to join us?
Stoli: I am huge space & aliens fan. Who designed the album art for the album and who came up with the concept?
We love space too!
Mike had conceptualized and written the song "Martian Diver", which we thought was an exceptional piece of music and storytelling. From there we wrote the rest of the album, and when we were deciding on the name and theme for the album, the concept of the Martian Diver shined through to really congeal all of these stories we were telling into a cohesive whole.
A local artist who we work with, Gregg Bautista, did all of the album art which is absolutely breathe taking.
The idea was first perceived as a man wearing a 40's style diving suit, sitting against a big boulder on the Martian surface having completely given up, sulking in complete apathy.
All six of us met with him to discuss ideas, and the album cover is a synthesis of those ideas. He was excited and did a lot of research on the diver suits and helmets from back then, and really studied them in order to produce all the artwork he did.
We still and always will be amazed with how much of a professional and spectacular job he did.
You can check out more of his work here- http://greggbautista.carbonmade.com
Thanks again Gregg!
Stoli: Being that there are 6 of you, how much do you get together and do you also have family/work/school/friends, etc?
Not as much as we probably should. We are all around that pivotal age now where your life starts growing beyond that of even yourself sometimes. We all have day jobs, hobbies, dreams, goals, significant others, bills, or are going to school. We try to see each other as often as our schedules allow, but when we do get together, we always have a great time. Sometimes, on that longer than expected occasion, it's like a family reunion where you haven't seen your brothers and sisters in a while. It's definitely tough being a six piece and trying to get copacetic schedules down. We all make time for the music though.
Stoli: Do you believe in the Illuminati and would you sell your soul for fame & riches?
We all have fine-tuned opinions on the Illuminati subject, but in short, people take something small and tend to exaggerate. We all wouldn't mind making out well for our efforts, but selling our souls is something we could never do. Where would we get the music from?
Stoli: What is coming up with Elevator Art and where you @ online?
Elevator is performing at the Jersey Shore Music and Arts Festival coming up in July at First Energy Park in Lakewood, NJ. We are really excited for this one, it's gonna be a blast!
You can check us out on Facebook, Twitter, Reverbnation, and Youtube.
You can find all the links here! http://elevatorartmusic.com