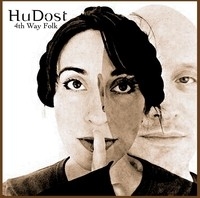 4th Way Folk, as the title suggests, is a folk affair.
However, it goes further than typical vocal/guitar duos. The album starts of with Young and Growing, incorporating flutes and violins to create something of a spiritual and inspiring tale.
The following track Holy Hobo is almost jolting to hear after such an introspective track. Driven by a fast paced snare driven beat, full of banjos and beautiful harmonies.
You can hear middle eastern influences as well as the mountain neo-folk and country sounds. This album actually has a more down home country sound than most of what has come out of Nashville over the last 20 years.
Oh My Heart brings the listener back to the vibe begun with Holy Hobo, followed by 4th Way Liner, which adds a light funk groove to their brand of folk. Lots of snare rolls and even a distorted bass line. Somehow the track still remains mellow, while being fiercly grooving.
The pattern appears to jump from introverted and heartfelt to upbeat and fun, maybe intended to follow the way life tends to be, unexpected, woeful one moment then full of joy and passion.
"Oh My Heart" MP3:
http://k003.kiwi6.com/hotlink/7hog1k7t9v/oh_my_heart_hudost.mp3
In the track Sweet Cross of Life, the male voice takes over the lead and brings a new depth to the already multidimensional HuDost.
Taking vocals a step further, Wood Street is pure vocal harmony bliss. The song almost sounds like something written during the Middle Ages. It made me think of Hobbits and Fairies to be honest, but it is definitely a showcase of vocal talent.
Paul Simon would be proud of The Singer, a classicly folk arrangement straight out of the 70's dream folk.
The album closes with Broken, a traditional southern Gospel hymn, background drones and some amazing vocal harmonies once again. It's a perfect way to round out an exeptional folk album that takes the genre in new and beautiful directions.
https://www.facebook.com/hudost
Review By: Anon