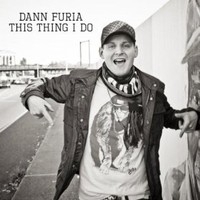 The artist formerly known as Skip-Dawg just goes by his real name these days and so now the transformation is complete.   This is Furia's 6th studio release and I'm proud to say that I've been a fan since 2009 when I first set my ears on this fella named Skip-Dawg.   I could sense from that moment that this Philly rapper had something special and so I just knew he would make it.   Battling through major health issues involving his lungs, Dann Furia has conquered all in order to simply stand and deliver.
On the new record 'This Thing I do' Furia is bringin' the big guns out by supplying the audience with some party-driven songs.   On the opening, title track one will hear Pop hooks hitting them with tight-knot rhymes being spilled and all surrounding a clean-cut 'n' crisp studio sound.   "I Think That I'm In Love" proves that Dann is in the damn zone and just feelin' it like there is no tomorrow.   You're getting hot beats that add up to one club-worthy joint if I've ever heard one.   On the track "Ready For It (feat. Aria)" I'm picking up on a major Black Eyed Peas-type feel which features that futuristic style and auto-tune in full effect.   I'm not a fan of the auto-tune technique myself and I have to say that Dann Furia doesn't even need all of that fancy, voice-altering technology because he has got the natural skills & talent to do just fine without it.   On the final track "Just Hangin On (feat. Rymedy)" the song speaks loud with impactful lyrics and a killer performance to boot.   The track reads as a "Behind The Music" of Dann Furia with the hip-pop artist layin' it all on the line for all to bear witness and most importantly never looking back.   You really get a glimpse into the mind and raw emotions that Furia holds inside where he says during one verse: "I pray every day just to get through the pain".   Powerful words from a man on a mission and I have to say that Dann Furia is bringin' the heat on the new album.
'This Thing I Do' is produced by Larry "Pop" Summerville who has worked with such artists as: Flo Rida, Christina Aguilera, Alexandra Burke, Amerie and BoA.   Many of Furia's songs have been used in more than 50 TV shows, movies and advertising campaigns.   Dann has not missed a Skip in his step and I can't wait to see what's next for this guy who can't do no wrong.   Trust me when I say Dann Furia is a genuine rapper and a damn good one I might add.   You can SKOPE out www.dannfuria.com/music   to find out more about this artist, watch videos and even buy 'This Thing I Do' & other cool merchandise directly from the site.  
By Jimmy Rae
Rating: 4.5/5 Skopes