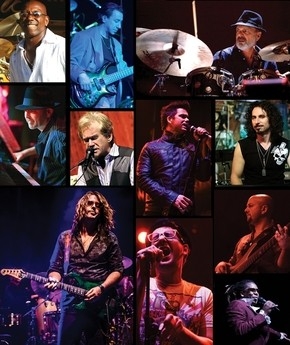 At the dawn of the hard-rocking 1970s, a band named Chicago blew out of the Windy City to dominate the pop charts for the next several decades and earn their place in rock 'n' roll history. Back then a "horn band" was a brand new idea, and the group's wide-ranging brand of "jazz rock" carved out a whole new sub-genre. The adventurous spirit and freewheeling musicality of those early Chicago recordings has never quite been matched. Until now.
Say hello to California Transit Authority (CTA). Based in Los Angeles and fueled by the creative passion and pure percussive power of original Chicago drummer Danny Seraphine, CTA is all about a man — and a band — on a mission.   And with the release of their landmark sophomore CD, Sacred Ground, CTA accomplishes that mission and a whole lot more. Working side-by-side with acclaimed guitarist Marc Bonilla, whose co-production, playing and co-writing are front-and-center throughout the project, Seraphine throws down the musical gauntlet with a collection of songs that lays a new cornerstone for the jazz/rock genre.
"Sacred Ground" MP3:
http://k007.kiwi6.com/hotlink/xiw6onc437/sacred_ground_by_cta.mp3
"Full Cicle" MP3:
http://k007.kiwi6.com/hotlink/u07d945t1s/full_circle_-_cta_-_sacred_ground.mp3
The creative team of Seraphine and Bonilla, along with keyboardists Ed Roth and Peter Fish, and bassist Mick Mahan — came together in southern California with the simple goal of making the most of the music they love. It was an infectious idea. The band's 2008 debut, Full Circle, garnered critical raves and spawned some now-legendary live CTA performances. The album also marked Seraphine's long-awaited reconnection with his former Chicago bandmate, Bill Champlin.
"It's taken me a while to get here, but I feel like CTA is in a very good place," Seraphine says. "I'm very proud of this band, and I feel like we've made a record that will stand up for generations to come."