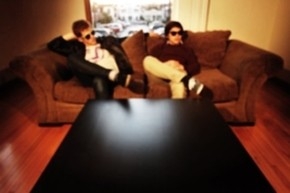 TV Girl is pleased to release the interactive video for "Girls Like Me," a social music video that allows you and your Facebook friends to make cameos.
Experience it here: www.tvgirlslikeme.com
Directing duo fourclops filmed the video through Skype sessions with TV Girl fans who are seen singing, performing a choreographed "finger tutting" dance routine, and striking wacky poses for the camera. The result is fun and grassroots, but gets taken to the next level when you connect to Facebook. You'll be prompted to take a photo to make a cameo in the video along with your Facebook friends and other people who have participated. The music video evolves with each new participant, providing a different experience each time.