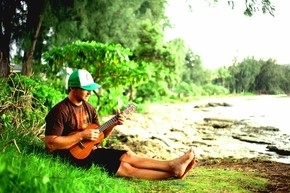 Armed with his Ukulele and refreshingly unpretentious outlook, Casey Turner interjects an uplifting sense of calm and relaxation into this chaotic world. Built on a steady beach vibe, his debut LP No Stress Express invites it's audience to put their feet in the warm sand of the pop music landscape and take a moment to allow their worries to melt away in the sun.
Download "Never Want To Go Home":
http://www.caseyturnermusic.com/promo/surfaid2.html
Casey was led to his laid back mindset after his stressful journey as an engineer and a bonafied Rocket Scientist who developed hydrogen fuel cell systems for major vehicle manufacturers, dabbled with renewable energy patents, and worked at the Kennedy Space Center for NASA (who has broadcasted his music aboard their space station). Casey's ability to put his talented analytical mind to rest and sink into the laid back San Diego Beach lifestyle, which permeates his music, is the wonderful outcome of him leaving all that behind.