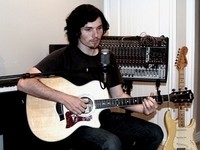 From Utah comes a fresh male artist known as Richard Tyler Epperson who just released their latest debut effort "Falling Between the Stars" (2011). I always listen to the opening track extremely carefully. It's the opening track the artist has selected to hit your ears first and foremost. The opening track "At Your Door" sets the stage rather appropriately for a CD like this. It was a great intro piece that stuck in my head and had me eager for what was ahead. All in all the whole CD is brilliantly delivered with a richly woven Earthy-Pop-Folk-ish type texture yet with songs that have serious popish staying power. Music will remind you of Train, The Script and The Calling but also Local Natives. The Tallest Man on Earth and Iron & Wine. To be honest I can't say enough about Epperson's overall appeal and incredible signature sound. Their bio describes it bet: My parents didn't have enough money to help me buy a guitar, so my oldest brother offered to loan me enough money to get my first guitar. I practiced for years until I really got the hang of it. My other brother taught me so much with chord progressions and how to finger pick the way I do and helped me really create my own style. We played in and out of band for years together, I played either bass or piano. I was always afraid to sing, so all of my early songs were instrumentals. I do think that not singing was a good thing for me musically. I believe it really allowed me to focus on the background of the music and really help me understand how to mix and listen to what fits in songs. Falling Between the Stars captures a very pure and genuine sound that grabs the listener right from Track 1. Epperson has a sound that favors many pop artists but with a more modern-day urban feel. What's more the musicianship is amazing and not to be underestimated. I've never heard an artist so skillfully combine so many instruments into one unique sound. Weather this is by design or simply by accident it's amazing. The songs that stuck with me the most were "Don't Tell and "You and I."
My only negative comment — I felt the CD attempts to be too many things at one time to many people. There are melodic poppy moments, hard rock moments, sing songy moments and alternative rock folk moments. I would advise Ames slightly narrow his overall sound just a tad within the fairway.
If there was one word I would use to describe Richard Tyler Epperson it would be diversified. This CD will simply make your day more entertaining, but there is an undeniable passion beneath all this. This guy possess enough talent and are capable players in their own right. The songwriting is world class and will tug at your heartstrings.. But it's obvious Epperson's primary goal as an artist   is to make this world a better place one song at a time and If that's sounds corny so be it.
Review Comments: indiemindymccall@gmail.com
by Mindy McCall edited by Michael Rand
Overall Rating: 7/10
Official URL: http://richardtylerepperson.com/fr_home.cfm