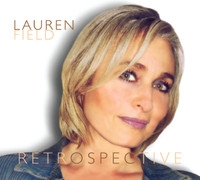 Lauren Field's latest release, Retrospective is a refreshing compilation of songs that smoothes the rough edges of the surrounding world. It is her first release since 2003 and all I can say is where have you been all my life. It is a tantalizing excursion from the everyday norms. The music soars to levels beyond the clouds and brightens the darkest sky.
Field has some chops that swiftly cut through emotions and gets right to the heart of the matter. She has contagious melodies that are emphasized with strong raspy vocals. She revs you up with, Right Back Where We Started From, a up tempo jazz number that syncs your pulse to the rhythm. Then she slips in her softer side with an angelic voice that is an instrument all on its own.
She is clearly a seasoned musician that stands out above the rest. She has a Nora Jones appeal with an edge. The production is succinct with not a single wasted sound or note. Everything is meshed together creating a 16 track mystical carousel. The song, Second Coming, takes us to church, then ending on, Everybody's Looking For Something, that sounds like a theme song from a James Bond flick. But she is not going to let you go until you have been completely satisfied. This song invades your psyche and preaches until you are screaming amen and hallelujah!
Lauren Field has come to play and is taking names. Each song has its own personality and reveals a little piece of her unsurpassed talent. She owns the airwaves and graces our ears with musical bliss. She is worth the listen and I can only hope she does not wait so long in between to release more mind bending music. http://www.laurenfield.com/
Rating: 5/5
Rebecca Hosking – hoskingrebecca@gmail.com