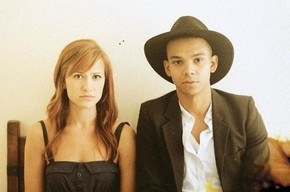 In their Los Angeles-based project The Tin Drums, lap-steel guitarist Anna Beth Carson and roots-rocker Jason Diaz marry early stax/volt soul and Americana in their singular brand of alt-country.   Their self-produced debut EP, Before the Evening Falls, is a testament of emotional triumph and self-discovery, speaking truth stranger than fiction.
https://soundcloud.com/citybirdpr/the-tin-drums-eulogy
In their premiere single, "Eulogy," luxurious harmonies cascade over sighs of the lap-steel guitar in this hymn of love lost and found.   Before the Evening Falls is the beginning chapter of a long musical partnership influenced by Fleetwood Mac, Sly & the Family Stone, and Ryan Adams & the Cardinals.