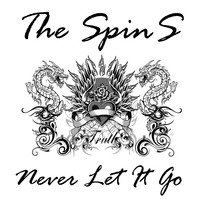 "Never Let it Go" is the new single from the Italian pop-rockers known as The Spins — a quintet of battle-tested music veterans. Among these members is Alessia Mattalia, voted in her native land as one of the "ten best female drummers [of] all-time."
Okay, the single begins with a rather playful piano bit. This sense of playfulness is enhanced by the speaker's lighthearted outlook on life: "Be optimistic and you get / all that you deserve…Don't let the world upset you."
"You get your own / and I get mine."
Sounds fair enough.
Better than fair enough is the song's production quality, which is clean to the point of being impeccable. I suppose that's what happens when you record one song on two separate continents, and team up with the likes of Grammy Award winning producer Jeff Bova.
The musicianship is plenty stellar. Chemistry between band members seems to exist. No one is trying to be the loudest instrument in the room. On that note, I was somewhat anticipating an extended drum solo from Mattalia, the percussion wizard.
However, this never occurred. Of course, we are speaking of just one song, consisting of three-and-one-quarter minutes.
As for any final judgments…"Never Let it Go" is pleasing to the ear, radio-friendly in both content and duration. It should do well.
Speaking of doing well, now comes an opportunity for you, the listener, to do well. Purchase a solid single while assisting Oxfam America: "an international relief and development organization that creates lasting solutions to poverty, hunger and injustice."
The opportunity waits at: http://www.reverbnation.com/thespins
And if you want to check out a video to "Never Let it Go," head straight for:
[youtube HVpN8uV3gRw]
You certainly won't be the only one. This song alone has hauled in almost one-million YouTube visitors!
 
Ray Cavanaugh – owleyesgatsby@yahoo.com