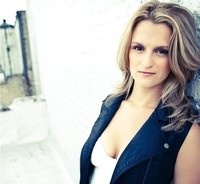 From the beaches of Southern California hails Sarah Petrella, an inspiring singer/songwriter with a voice that definitely adds a much needed dose of sunshine to our everyday lives.  
Sarah wrote her first song at just 10 years of age, and at 15, she made her way to Nashville to perform with top notch musicians and co-write several original songs with famed songwriter, Don Goodman.   Her new three track EP, Summer, exlores Sarah's transition from innocence to maturity in both her songwriting abilities and stunning vocals.
"Time Stands Still" MP3:
http://k007.kiwi6.com/hotlink/8qfg1irq34/02_time_stands_still.mp3
Geza X Gedeon produced Summer and is well-known in the industry for Meredith Brook's top-charting single "Bitch," a song that truly empowered women all over the world through its new and positive connotation of the meaning of the word. The connection that Sarah found with Geza X was immediate and incredibly special. "We always seem to read each other's minds," she says. In addition, Ben Harper's rhythm section stepped up to record on the disc. Sarah feels it was a perfect match and that the combination of Jordan Richardson on drums and Jesse Ingalls on bass brought her songs to life– exactly how she was hearing them in her head. "Sarah is amazing, says Geza X. "Things work out magically for her. When she wrote "Time Stands Still," I was speechless when I heard it. It was perfect in every way."
KCRW, one of the most influential independent radio stations in the United States says of Sarah, "she goes from light fun, to Broadway, to alt-folk rock in just 3 cuts-Petrella is a musician in the fullest sense of the word."
The first track, Summer, comes from a place where Sarah shows her free spirit. It's lighthearted and airy, boasting a memorable chorus that you'll be humming away. Next up, Time Stand Stills takes Sarah's experience in musical theatre to the forefront with powerful vocals, passion-filled lyrics and an array of instrumentals, including a violin solo that is truly breathtaking. The last track, Daughter, is a brilliant cover of the Pearl Jam classic. It was a bold move to cover such an iconic band, but Sarah exceeds all expectations by turning the song into a beautiful, female-inspired version that is vocally strong and full of raw emotion.
Overall, Sarah is not just a pretty face to stare at, or a beautiful voice to listen to. She's both– and this album proves it. Talent doesn't go unnoticed when you have the full package and Sarah Petrella definitely covers all the bases.
For more information on Sarah Petrella and her new album, Summer, visit her website: www.sarahpetrella.com
Writer: Melissa Arditti