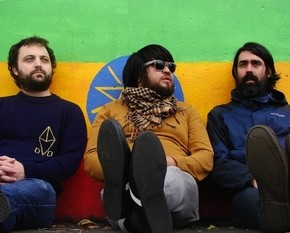 New Moss Records is excited to release the debut album from Sun Angle entitled Diamond Junk, out May 7, 2013. In celebration of the announcement, Sun Angle is debuting the first single "Time Snakes." Produced by Danny Seim from Menomena, Diamond Junk was recorded in a brief blip of space-time in a cabin lurking in the depths of Zigzag, Oregon — musical immersion marked by the creative abandon of all-night psychotropic inspiration and oblique strategies.
https://soundcloud.com/newmossrecords/sun-angle-diamond-junk-time
Known in their native Portland for their irreverent, expressive, spontaneous live shows-full of aggressive elation and gritty, raucous, surreal layers of sound, the trio channels that same epic, improvisational energy into their debut album. Diamond Junk creates, as the title suggests, exhilarating tension between beauty and chaos, propelled by artful, animalistic urgency.