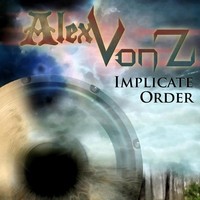 At some point, Alex Seleznov underwent a metamorphosis. Leaving behind the proverbial 'rat race,' he adopted the name Alex Von Z, went vegan, forayed into devotional yoga, and began to cultivate his latent spirituality.
Though he forsook much of his former ways, Alex drew on the musical background of his youth to forge his new path — a path that has begotten not one, but two EPs: 1. Implicate Order 2. Life's Addiction.
When listening to the track "Drawn," what comes to mind is the phrase: ready for radio. The melodies are apt. The vocals are pleasing.   Also, the lyrical message is one that would likely resonate with many:
"I can't change the way I am / So I'll just love the way I am drawn."
The guitar complement to "Life's Addiction" kicks far more ass than any vegan-penned track ever should. At some point during his former life, Alex Von Z was banging his wayward head to the riffs of such sleazers as Motley Crue and Guns n' Roses. This has served him well.
[youtube zKTp7RiRQtM]
"Chocolate Covered Karma" hovers somewhere on the punk rock side of metal. It might make you nostalgic for the 80s (yes, even if you weren't alive then). There eventually arrives this squealing guitar solo that could summon C.C. Deville to pick up that pink V-shaped guitar. However, this ain't "Talk Dirty to Me." In fact, Alex's lyrics get quite philosophical, and karmic:
"So you see there must be a system / One based on prior lives / Otherwise the universe / Is a roll of the dice."
The track "Rise & Fall" has a significant Megadeth vibe. There's a rather solemn optimism to be taken from the lyrics:
"Through any destruction we know life will persist / Results ignored still find those who resist."
As with "Chocolate Covered Karma," the instrumental component to the song "What About Me" has elements of both punk and metal.
Regarding the lyrical component, it appears to satirize the concept of self-absorption and its countless practitioners:
"I've got something to share with all you wonderful people / There's just so much to tell and wouldn't you know it's all about me."
Park your monstrous egos at the door of: http://www.AlexVonZ.com
Ray Cavanaugh – owleyesgatsby@yahoo.com