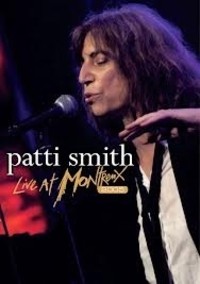 Patti Smith proves her legendary status as she walks out on the stage at the world renowned Montreux Jazz Festival. She owns the stage and commands your attention as the audience is mesmerized by the performance of a lifetime.
This is Patti Smith's first time ever live video release filmed in 2005 at Montreux, Switzerland. She performs her classics, "Because The Night", "Redondo Beach", "Dancing Barefoot" and many more songs that have catapulted Smith's career to soaring heights.
The Godmother of Punk has been rocking since the 70's, influencing future artists since she made her presence on the New York City Punk scene. Patti paints musical pictures with her band providing the canvas as they force their way into our psyches. For those younger generations who are not familiar with her music, I recommend the history lesson and imagine their surprise, of how many songs that are recognized.
She also celebrates her own influences and sings, Bob Dylan's, "Like a Rolling Stone", with as much authority as Dylan himself.   One cannot help reminiscing   through the years as each song reveals a different time. Her magical presence is filled with the same angst and strength we have been receiving from her for decades.  
There are rocking moments and then more intimate moments, regardless the atmosphere it is easy to see why Patti Smith is a talent with no limits. She changed the face of music and had a huge influence on what we listen to today.
Watching this DVD is a testimony to her vibrant artistry in the creative world. She is thriving as much today as she did the moment she hit the scene. She took on the world and left a mark in history that still rings through out every corner of the Earth.  
 
Rating: 5/5