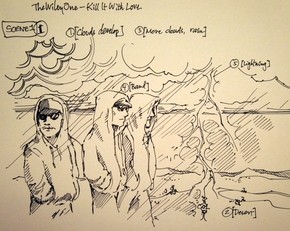 Phoenix based band, The Wiley One recently finished a creative new music video project with speed drawing visionary Nathan Shields, and all members of the project are pumped and ready to share this artistic collaboration with the world.   The music video was created for the title track off their sophomore album "Kill it with Love".
[youtube c2n76PzKqrI]
The music video portrays the message behind the lyrics of the "Kill it with Love" song through speed drawing to match the music.   A challenging endeavor to say the least, both Sam and Nathan communicated back and forth until the final creative plan was in place.   In the end, the creative concept and story board for the music video were formed by Sam Wiley and the final drawings and video we're produced by sketch artist Nathan Shields.