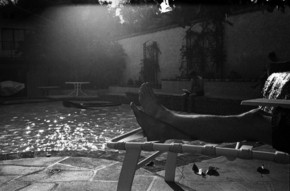 Melbourne's Total Control hit US roads this summer with dates including shows with Ceremony, The Soft Moon, UV Race and Thee Oh Sees.   The band will also be at this year's Chaos In Tejas Festival in Austin.   It's live where the band is most consistent, exploiting their punk and hardcore backgrounds to present their songs in their most frantic, high-energy incarnations.
[youtube ZDc6LSk8XRs]
Total Control merged from Australia's garage punk scene in 2008 when Dan Steward (UV Race) and Mikey Young (Eddy Current Suppression Ring) came together forming an aggressive post-punk sound with bursts of minimal techno. The debut LP, Henge Beat, was commended as one of the few records released in 2011 that evaded the ease of classification and competent tribute act status of most modern bands.