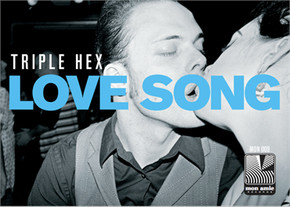 For all those unimpressed by Valentine's Day, gritty Brooklyn rockers Triple Hex have released their decidedly unromantic 'Love Song'. The single is out on a 7″ Flexi Postcard through Mon Amie Records, with the artwork by Emily Beaver. To accompany the Valentine gift, Triple Hex have released a video for 'Love Song'. The grimy DIY video was filmed on the mean streets of Reno and features   the trademark swagger of frontman, Dave Hex.
[youtube uKjqGMV3cp0]
Triple Hex's E.P. was released January 1st on Mon Amie Records.   It was recorded and produced by Matt Verta-Ray (Heavy Trash, Madder Rose, Speedball Baby), at NYHed Studios.