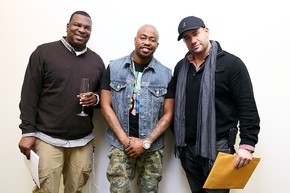 MASS APPEAL ENTERTAINMENT announced today that they have signed a joint venture with three-time Grammy Award-nominated star, RAHEEM DEVAUGHN'S 368 MUSIC GROUP.   They are set to release his new album, A PLACE CALLED LOVELAND, this summer via INgrooves Fontana Distribution.
NEW SINGLE, "LOVE CONNECTION":
https://soundcloud.com/raheem-devaughn/love-connection/s-ivdfX
"We are excited to be in business with Raheem, his 368 Music Group, and INgrooves Fontana. Raheem has always put out timeless R&B music throughout his career and we look forward to our partnership and continued success with the release of his new album, A Place Called Loveland," states Mass Appeal's Marcus Siskind.