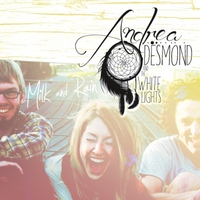 Andrea Desmond is a singer-songwriter who often takes a seat at the piano. Having belonged to a succession of bands in the past, she's now gone solo — with the help of her trusty backing outfit The White Lights — for her 4-song EP Milk and Rain.
Desmond has ridden frequencies at radio stations from Seattle to LA, and she's now looking to surf the Milk and Rain sound waves across the nation.
In opening track, "Block the Heart," Desmond sounds more like she's revealing her heart, judging from the passion of her vocals. At any point, these vocals can embark on a grand poetic flight — then abruptly return back to earth for the next series of lyrics.
"Reaching hands they / Try to grasp the gold they've found…They overstretch, and overeat / Then starve back to the ground."
Is Desmond singing about people who are flabby with material excess but spiritually emaciated?
In track 2, "Teal Water," Desmond sings about how she, "Can't wait to fly away." Well, Ms. Desmond, you were flying quite high on the previous song!
[youtube QT3GUKTBi60]
"I'm dreaming of teal, teal water….I'm dreaming of orange cliffs."
Is Desmond referring to some majestic natural setting found in her native Pacific Northwest?
"And I'm okay with a little less…I'm willing to move on."
Is she announcing her desire to exchange material happiness for something more enduring and spiritual?
With track 3, "Painting," Desmond takes to the piano for a tender epic ballad, one for which her voice is more than able.  
"Fire could make the forest burn / But it also could spark the lanterns."
Yet more imagery from the natural world, which by now has become a lyrical leitmotif of Milk and Rain.
In the final track, "Run," it seems Desmond wishes to return to an Eden-like state of innocence and tranquility:
"Run to open spaces and fields to feel untamed / And just be the way our bodies came."
The whole EP is radio-ready; the latter two songs might have the best chance to go meteoric.
This Valentine season, you could spend way too much on a specialized teddy bear, or instead drop just 4 bucks on a heartwarming EP purchase at:
http://andreadesmond.bandcamp.com/album/milk-and-rain-ep
For info on Desmond tour dates, hit up: www.facebook.com/andreadesmond.music
Ray Cavanaugh – owleyesgatsby@yahoo.com