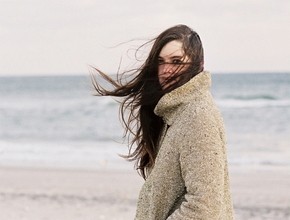 On March 5, Barwick returns with two new haunting compositions for a 7″ single on Suicide Squeeze Records. "Pacing" features Barwick's voice and layered harmonies, "but it's a bit of a diversion from the vocal loop-based songs I tend to make" says Barwick.  
[youtube 6iap_Ku3rjY]
"I absolutely love the piano. I wish I could play it better. For the cover, I chose my friend Peter Coffin's photograph of a piece he did based on the Newton color scale that corresponds perfectly to the musical scale. I absolutely love the image and it corresponds well with the piano pieces on the single."
The b-side,"Call," is a frail and passionate solo piano piece.