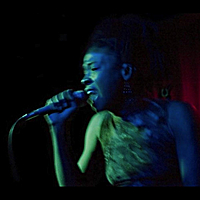 Uprising is the breakout offering from Imiuswi (pronounced – I, Me, Us, We), a genre-splicing outfit rapping many-a-lyric.
However, these rhymes are no odes to bling and booty. They instead address those grand concepts of injustice and revolution, while eschewing the utterance of uncouth words (ex: motherfucker, punk-ass-bitch).
The vocalist is a young lady from Los Angeles. Her voice is wild and genuine; it could be from Trench Town, Cape Town, Monrovia, or some other place belonging to 'the struggle'.
The track "Cultura" offers bass lines that pop like blisters across the fret board. In "Liberation" the guitar begins to rip a brief but inspired solo around 2:30.
Such song titles as "Martyrtov Cocktail" contribute to a bit of a subversive edge. This "Martyrtov Cocktail" is no diatribe, but rather a musically sophisticated piece. The intro is very exotic, conjuring up images of a Far East excursion (think bong hits with Nepalese monks).
Listen: https://soundcloud.com/tags/Imiuswi
With such lyrics as "repeatedly handcuffed," "born in exile," and "pollution of soul" — it seems there are oppressors in the midst!
The track "Playin' It Off" brings enough rap-funk and defiance for Zack de la Rocha and his Partners in Rage.
"Village" makes use of a West African instrument — not something you'll hear every day in most places. Though the vocals are certainly at the forefront in this track, the rhythm guitars also deserve mention — they pack more snap than any rhythm riffs have the right to.
"Mash" is a song that's impossible to listen to sitting still. You'll have to start groovin' while in your chair, or zigzagging through traffic…mandatory movement.
"Latido" is far more subdued….until about 1:30 in, when this guest lyricist arrives with a voice thicker than George  Clinton's dreadlocks. After trying to discern a few lyrics, it dawns on me that the fellow is rapping in Spanish (it's been so long since my last class).
Living up to its title, the album pulsates with revolutionary consciousness. Uprising is a fine album to bring along if you're planning an act of protest or — for the more ambitious among us — a military takeover.
Perhaps the present reviewer is too obtuse to realize, but he begins to wonder: Who is the enemy? Is it the neighborhood drug lord? Some jerkoff in a suit I could never afford? Or is the enemy something more bureaucratic and Kafkaesque?
Whatever the case, Imiuswi just might bring the 'Occupy Movement' out of hiatus.
Take part in the Uprising at: http://www.imiuswi.com/uprising.php
Ray Cavanaugh – owleyesgatsby@yahoo.com