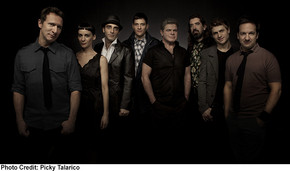 Latin Grammy-winning band Bajofondo announce they will tour throughout North America in March and April in support of their forthcoming album Presente due out March 5 on Sony Masterworks. The band creates the contemporary sound of the Rio de La Plata, the river that separates and unites Argentina and Uruguay.
[youtube M8SVYDvMVzY]
Their inimitable sound uses the region's rich musical legacy of tango, folklore, and milonga as a foundation for their genre-defying compositions that fearlessly cross-pollinate them with other styles. On stage, Bajofondo's eight members use traditional instruments like bandoneón alongside live video mixing, samples, and scratches to spellbinding effect. The North American tour is a chance to see one of the most acclaimed live acts in the world that recently drew hundreds of thousands at an outdoor performance in Buenos Aires.
 
Bajofondo have just released the video for Presente's lead single "Pide Piso" directed by the band founder and producer Gustavo Santaolalla. The animated video imagines the track as a 1980s 8-bit video game with romance on the streets of Latin America at its heart.