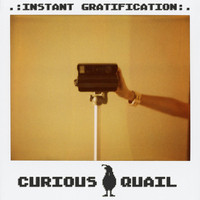 One thing that's for sure in music is that it not always leads to the same path. Over time, styles have led to other genres that eventually inspire other musicians to create their own sounds. Some of this can be seen in the latest album of Curious Quail, Instant Gratification.
"Once In A While" and "Disappointed Smiles (Formula for a Generic, Academy-Award Nominated [But Not Winning] Ron Howard Film)" kick off this record in such an experimental and inconsistent way that pretty much makes the difference. It is something like a cross between Nine Inch Nails, Matchbox 20, and The Ataris. Powerful and catchy guitar riffs are mixed with different computer effects, excellent drum beats that just hit the right spot every time, and vocals that fit perfectly with the songs.
"When The Cats Learned To Speak," on the other hand, goes by the line of Awolnation and Owl City. "Survivor's Gilt" is absolutely the opposite of what we've been hearing. There are no electronic effects. Again all musical instruments combine to create something that will certainly not leave you indifferent. It is more than catchy; it's contagious.
In "Honestly, Honestly," the piano takes control of the entire track. The original voice of Mike Shirley-Donnelly manages to give it a more melancholic and sad vibe. Then, as if that were not enough, the synthesizer creates an even more wonderful vibe, while the violin adds an epic touch to it.
"Playground" is the last song on the record and closes the album in such an outstanding way. It's a beautiful tune and whoever denies that is ignorant. This time, the epic and electronic combine to give you a song that will grab you and not let you go for a while.
In conclusion, this is a special album created by a special band. The lyrics make sense and the style mixed with a somewhat original and captivating sound is the perfect combination for something memorable.
Check out more at: http://curiousquail.bandcamp.com/
Rating: 5/5
Review by RJ Frometa
Edited by Marion Lougheed