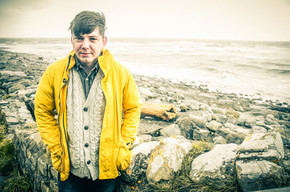 Sweet Baboo is Stephen Black, a native of the north Wales countryside and a single-minded, idiosyncratic singer. On April 23rd he will make his North American debut with his fourth full-length album Ships, released on celebrated UK indie label Moshi Moshi Records (Summer Camp, Niki & The Dove, The Drums). On Ships Black displays his ear for a sparkling melody, his restless soul, and gift for a deft lyrical turn – from darkly funny to piercingly tender, twinklingly boastful to deliciously self-deprecating.
[youtube zMQ8h42HOJU]
Ships is the follow up to Sweet Baboo's third album, I'm a Dancer/Songs About Sleeping, which was nominated for the inaugural Welsh Music Prize in 2011, a year which also saw the release of his EP, Girl Under A Tree. Influenced by fond musical favourites, The Beach Boys, Daniel Johnston and Gorky's Zygotic Mynci. Ever writing and recording, Black's productivity is all the more remarkable given his extra-curricular activities which have seen him working with an ever-growing array of musicians. Black has played on albums by Cate Le Bon, Slow Club and H. Hawkline, and has been a regular part of the touring line-up for all three bands as well as others.