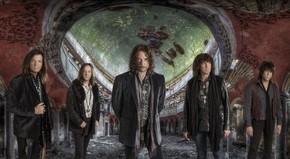 Taking up where iconic bands like Deep Purple and Bad Company left off, Heaven & Earth is on a mission to resurrect the sanctity of classic rock in its purest, most accessible form on their third studio album titled Dig. Due out on Quarto Valley Records, Dig was produced by Dave Jenkins, who's worked with everyone from Metallica to Tower of Power – and features special guests Howard Leese (Heart, Paul Rodgers), Richie Sambora (Bon Jovi), and David Paich (Toto).
[youtube 6nCu8TAT9eU]
The band have recently released a special behind the scenes look into the making of Dig and what brought these five musicians together to make such a "classic" sounding record. The clip premiered on AOL Noisecreep earlier this week and can be seen here.