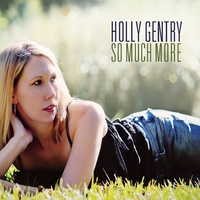 Perhaps it is the early exposure or rampant participation through developmental years; but when the musical bug bites certain people, they just can't shake it. This rings true for singer/songwriter Holly Gentry. Having sung in church and school during her younger years, the music-making urge took her to undergrad, haunted her through law school and her early years as a civil litigation attorney and has relentlessly pursued her through marriage and motherhood. Now, having embraced her urge and gift, she is set to release her debut album, So Much More–10-tracks of Country/Southern Roots-tinged, radio-ready musicality.
http://www.hollygentry.com/listen_and_buy/
Sax blasts open "Rockin' On The Inside" and continue in tandem with the vocals in intermittent honk fills. The vocally driven track pushes Gentry's voice to the foreground and proper arrangement sees the musicality as a bolster to it. Lyrical matter seems to border on the autobiographical side, telling the story of a music-loving mother trudging through the daily grind of the 9-to-5 world, all the while being committed to her inherent love. On "Justin Timberlake Show" bent note Blues electric takes the lead-in before more autobiography unfolds in the lyrics, recalling the ago college years and how people change from school to post grad life. Through the track, the electric (producer Brian Molin) remains the highlight of the instrumentation just over strum melody and backing organ foundations. The piano-led opener of "So Much You" slows the album pace with backing dirge organ and slight staccato electric strums. Building through the verse work, the track crescendos at the chorus where Gentry showcases her vocal strength and range, while still maintaining a slight, sultry rasp. "Pretty Girl" opens with a funk laced melody of wah organ, piano and guitar before surrendering to Gentry's belt intro to the verses. The organ soars at the chorus ever so out of the vocal range; again as foundation. "Child Of Mine" is a down tempo ballad replete with slide guitar work, weepy strings (provided by David Blackmon of Widespread Panic fame) and slight backing percussion. The instrumentation gains cohesion after the first verse where the amalgam of sound takes on an almost Bluegrass/Hymn-like vein.
Chalk up another accolade for Gentry's resume with So Much More. It certainly speaks to the drive of the singer with everything else in her life…mother, lawyer, wife, etc. And she has certainly surrounded herself with the right people as evidenced through the musicality of the 10-tracks. Even with the album aside, her story alone makes her easy to root for so going forward; hats off and much luck.    
http://www.hollygentry.com
               
Rating: 3.5/5
Christopher West – cwestlaz@gmail.com