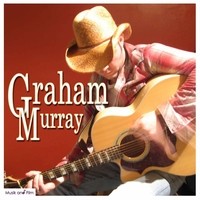 When someone thinks of Ireland, the last thing that probably comes to mind when we talk about music is a country band or artist. Rock, electronica, maybe hip hop or rap … But country? However, Graham Murray shows that this is possible on his self-titled EP.
"Forecourt Flowers" has that vibe, that great Nashville sound, country well done in every sense of the word. The acoustic chords, the violins very characteristic of this musical style, and the drum and bass lines know how to combine without failing for an instant. The singer's voice is so particular and manages to create something beautiful, something of the past and the present. At the same time, paying close attention, you can hear a little bit of REM in it.
"High & Low" has is nothing shy of the greatest and legendary country singers. Along with women's voices in the background, there is something emotional, something that will not leave us the same. Again we find the sound of a cross between Lynyrd Skynyrd and Kenny Rogers.
"I Don't Know Much" takes us completely away from what we have heard so far. As soon as I put the song on in my headphones, the hairs on my skin stopped me and I began to feel butterflies in my stomach. The rhythmic guitar riffs and once again the acoustic guitar chords and violins mix with Murray's voice to create something that manages to rival musicians like Damien Rice, something amazing.
"Pick Yourself Up" and "Searching," besides being the last two songs on this album are also the most powerful and the fastest. They have that great kind of rock sound. With two last awesome, fun, entertaining and catchy tracks, the album comes to an end.
In conclusion, everything on this album works perfectly. Guest appearances from Troy Klontz on steel and dobro (performed with Brooks and Dunn), Steve Stokes on fiddle (performed with Josh Turner and John Michael Montgomery), Tim Lorsch (www.timlorsch.com – who played for Kenny Chesney & Keith Urban) and last but not least, background vocals from the very talented singer / songwriter, Debra Lyn, each add their own distinctive elements that make this record one of a kind.
Rating: 4.5/5
Review by RJ Frometa
Edited by Marion Lougheed