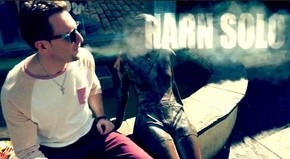 New Orleans-based emcee Harn SOLO presents the Reel Spotlite TV-directed music video for "Monumental" featuring Tha Cartel, the first single from his new album Journey To The Sky, produced with live instrumentation by NOLA musicians – Pro Prospek x Coco Dank. After performing in Europe during 2012, Harn SOLO returned eager to collaborate with fresh talent and saught the services of New Orleans rap group – Tha Cartel.  
[youtube Q39seLCdOHY]
"Monumental" captures the artists delivering rhymes at iconic Crescent City locations – Jackson Square x Cafe Du Monde. Harn SOLO continues to expand his unique brand of hip-hop traveling to New Orleans, Atlanta, London and Amsterdam, performing along side the likes of the Wu-Tang Clan, Skyzoo, Chase N. Cashe and Mickey Factz. Harn SOLO has eight albums under his belt including Reaching Higher, Shooting Star and The Grind, his full-length album with fellow Nola hip-hop artist Lyriqs da Lyraciss.