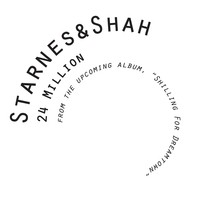 The dynamic duo Starnes & Shah are back at it again with their full length CD, "Shilling for Dreamtown". It is scheduled for release in the summer of 2013. Celebrating the latest single from their new project, "24 Million", they are harmonizing and mesmerizing us into the new year.
Delivering their signature sound that we have grown to know and love. This song leaves the listener wanting more. The melody glides into the air as graceful as their angelic voices. If this single is any indication of the rest of the CD there is no question they will be tantalizing the airwaves yet again.
They have a unique style that is maturing with every release. They get tighter and more focused bringing them to super stardom one song at a time. They are not a band but a community of camaraderie that meshes into one entity of gracefulness. Their connection is heard and felt in each note played. They have a positive vibe that proves these woman exude talent with an engaging strength that empowers their listeners.
Starnes & Shah are singing their hearts out and enticing fans every where they go. Their music is refined with their individualized visions. You can hear the hard work and passion in every striking rhythm. I'm eager to hear the entire CD, "Shilling for Dreamtown", on sale this summer, bringing back the sun with their musical heat.
I rate this 4 out 5 stars
Rebecca Hosking – hoskingrebecca@gmail.com –   www.rebeccahosking.com