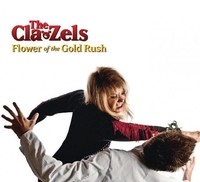 This is the Cla-Zels third release entitled Flower of the Gold Rush (2012). Band members are:
Jason Erickson (Vocals, Lead Guitar), Joanie Whittaker (Vocals Rhythm Guitar), Brian Beaverman (Drums) and Chris Barlow (Bass).
Meet the Band: https://www.facebook.com/TheClaZels
Flower of the Gold Rush is one release that certainly doesn't disappoint. This is one band that brings to the table effective songwriting via a highly diversified sound that's just a blast to listen to. This meshed with a one in a million Retro-Pop-Indie sound and effective vocals and hooky songwriting and   musicianship make for a very effective combination. Couple this with a slam dunk live presentation and you have a winning ticket. Lead singers Erickson/Whittaker are just a breath away from 90's Alternative- Rock with sounds that will remind you of No Doubt, Hole, Ace of Base, Garbage, and Four Non-Blondes. However on the other side of the sonic spectrum I can hear a modern day influence of Pink, Pillow Fight Club, Hey Monday and A Fine Frenzy. Of course all of the aforementioned bands could be classified as Alternative, Pop, Rock but The Cla-Zels manage to never cross the line into Power Pop and I like that. All songs are wonderfully simple but masterful in their overall arrangements. Personally I see The Cla-Zels as a cross between This is She and No Doubt but their sound goes beyond comparison. This CD is quite entertaining overall with an amazing vocal fronts and sizzling playing from the rest of the band. Both Erickson and Whittaker deliver effective vocals and tad of sex appeal on the side (visually and vocally). The lyrical content is fun and entertaining and I get the impression these 4 don't things to seriously. The Cla-Zels capture lightning is a bottle with this release, almost as if you were watching a band performance live.
Purchase Link: http://www.amazon.com/Flower-Gold-Rush-Explicit/dp/B00AE6ONIU
Final Word: The Cla-Zels have proven themselves with this latest release. They are clearly an up and coming talent around southern Ohio and all band members are clearly capable musicians. I must admit Flower of the Gold Rush sucked me in like a powerful drug and refused to let go long after the CD was over. This usually indicates he is something special about the artist or band in question. Thus deserving praise, recognition and musical fame at the international level.
Review Comments: joshuabeach9@gmail.com
By Drew Blackwell edited by Joshua Beach
Overall Rating: 3.5/5