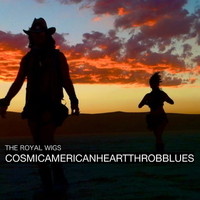 The Royal Wigs is a unique band in that the members all come from four different groups: Girls Like Cigarettes, Great Lakes Myth Society, Seldon Plan & Agents of the Sun.   Hailing from the states of Michigan & Maryland, this super group has come together to create something that is special and that works.   Whatever it is The Royal Wigs most certainly have the winning numbers on this ticket!
The band is made up of four members: Joe Black on vocals & guitars (solely responsible for all lyrics & music), Ralph Rodriguez on guitars & vocals, J. Scott McClintock on electric bass guitar and Frank Corl on drums.   'Cosmic American Heartthrob Blues' is their debut EP and it is one hell of a first effort!  
The recording features five songs that all stand out in their own right.   I first hear a song titled "White Line Fever" where right away I am sensing a raw, "Coolio"-type vibe with rock being the dominating factor.   As the EP rolls along I pick up on elements of country, indie roots, alternative and even pop, which definitely screams Americana.   On the track "Oh, My Soul" this is one of my favorites just based on the fact that there is so much damn feeling hitting you all at once.   So much power & emotion slapping you around from all directions as a Mack truck full of Royal Wigs is headed straight toward you!   The 5-track recording ends on a very touching note that will impact the listener for sure and will leave them wanting more.   The audience will be applauding The Royal Wigs and a finish like this deserves a standing ovation & curtain call.   Here's to you gentlemen on a job well done–CHEERS!
[youtube qpj0kUNsDYI]
I have to say something else that was quite interesting here and that is that The Royal Wigs defied musical gravity in a way by incorporating a garage band effect meets a polished, studio session.   That is a killer combo that I would order every time!   One will hear solid playing & singing throughout all five tracks and I would say that 'Cosmic American Heartthrob Blues' is a recipe for success!   You can listen to and Buy the entire EP on Bandcamp (http://royalwigs.bandcamp.com/) for only $4.99!   The Royal Wigs are also featured on Facebook, SoundCloud & MTV.com.   I highly recommend SKOPEING out 'Cosmic American Heartthrob Blues' as it is a genuinely good listen chock-full of goodies.   Watch as The Royal Wigs ride out into the sunset and attempt to capture the interest of music lovers everywhere one ear at a time…or two.  
http://www.reverbnation.com/theroyalwigs
5 Skopes
By Jimmy Rae – jrae2@att.net