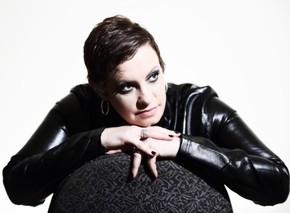 The artist known as eM is kicking off the New Year with a bang!   The singer/producer/songwriter may reside in Melbourne, Australia but her music is actually more popular right here in the United States!   So it's time for eM to shine and what better time than now!
With projects galore already wrapped up and many being worked on as we speak 2013 looks to be a Ginormous year for the multi-dimensional eM.   She recently did some work with an artist that goes by Zibe on a track titled "Here I Go" that was released back in September through KP Recordings.   Also released in September through Elettrika Records was the 'DHF Dirty Mixed' recording featuring remixes from her previous albums 'DHF' & 'Darker Harder'.   Quite the busy bee eM is but if you thought the buzz would stop there you're nuts!
The Australian Sensation has a second release scheduled with Zibe working on a song called "Dangerous Heart" that is set to come out early 2013 through Insomnia FM Digital.   eM is working with artists Andy Woldman and Cygnus X-1 for the very first time, which will be released through Balearic Sun Records early 2013 with a Promo video coming soon!   eM is also doing some work with UK dj/producer Craig London where they will be coming together to create some trance & progressive tracks and that will all be happening this year as well.   And if that's enough, eM has just enough steam left in her step to put out her EP 'Encore', which is a follow-up to her record 'DHF'.   That is, you guessed it, set to come out in the New Year with a video in the works and that's what I'd like to call the icing on the cake baby!
One can check out eM's very own Podcast RIGHT HERE (http://mzzemmusic.podomatic.com) where you will find the finest hand-picked selections & new mixes spanning over the last five years.   And who's up for some free music???   Yes that's right you can listen to as much eM as you want with TONS of current and upcoming releases all ready for unlimited Play at: http://www.numberonemusic.com/em/.
And if you haven't got your full dose of the one-and-only eM by this point then please feel free to SKOPE out these other cool sites that will have plenty of exciting news/info/updates on one of the hardest working musicians to come out of Melbourne!
www.soundcloud.com/em_melbourne
www.youtube.com/mzzemmusic
www.mzzem.com
I will leave you with three words that eM lives by and so do I: "Inspiration. Motivation. Dedication."
P.S.   eM's song "A Miracle" blew up on hardcoremix.com with an impressive 110,000 plays & 43,000 votes and the track held the #1 spot for 10 months!
By Jimmy Rae – jrae2@att.net